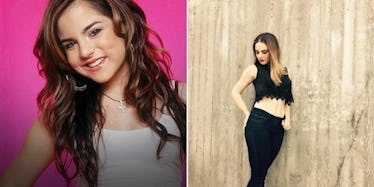 JoJo Totally Crushes Her Comeback With Three Awesome, Brand New Singles
JoJo is calmly welcoming us back in after yelling at us to "leave (get out)" in 2004.
After a nine-year absence from all things music, the rhythm and blues singer celebrated her reintroduction into pop culture by dropping three new singles on Thursday.
For those who don't remember JoJo (no one doesn't remember JoJo), at one point in the early-to-mid 2000s, the now 24-year-old R&B singer was poised to take over the world.
Her two singles "Leave (Get Out)" and "Baby It's You" quickly rose up the charts and she even had a burgeoning acting career going -- aside from the Oscar committee, who can forget JoJo's pivotal role in "RV"?
Because of contract issues with Blackground Records, which she signed with when she was just 12 years old, JoJo was sidelined from producing new music after the 2006 release of her second album, "The High Road."
It wasn't until last year that she was able to legally break her ties with Blackground and sign a new contract with Atlantic.
She tweeted the following the day that she was released from Blackground.
A big ginormous THANK YOU to all media/blogs who have been supportive over the years & most importantly #TEAMJOJO ... (Cont'd) — JoJo (@iamjojo) January 15, 2014
... I wouldn't have survived without u. Im so thankful & excited 2 get back 2 work. I want 2 create something we can love & believe in. — JoJo (@iamjojo) January 15, 2014
JoJo has been dropping little snippets on Instagram and Twitter over the past few days of her back at work recording an album.
My arms have minds of their own. I just let them do whatever they're gonna do.. #JoJournals #tringle #3singles #Aug21 pic.twitter.com/ier23OlXab — JoJo (@iamjojo) August 20, 2015
Above the songs on her website, JoJo wrote a message for her fans, saying,
THANKFUL AND EXCITED to share these three singles with you!! Thank you from the bottom to the top of my heart for your support over the years. The journey is just beginning...
I think I speak for everyone when I say I never want to live in a JoJo-less world ever again.
Welcome home, JoJo.
Citations: JoJo makes long awaited comeback with three brand new singles (Entertainment Weekly)