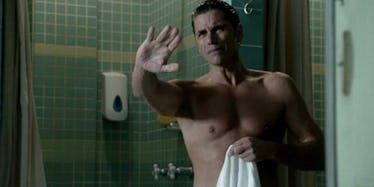 John Stamos Strips Naked For A Sexy Shower In New 'Scream Queens' Preview
Fox
Sure, there may be a killer out there tormenting the cast of "Scream Queens," but that doesn't mean John Stamos and Greg Powell can't get naked, right?
The two stars stripped down for the Fox show and shared quite the awkward shower scene together.
The teaser, which aired Tuesday, shows a lot to look forward to in the upcoming season of the hit teen comedy horror. There are weddings, doctors, a serial killer... but we gotta say, 53-year-old Stamos topless may be the icing on the cake.
I'm so thankful our childhood crush on Uncle Jesse continues to pay off.
He remains the only dude who successful pulled off this look:
Twenty-seven-year-old Greg Powell as Chad brings on the awkward though in this teaser as he airs out his "scro brah."
Stamos' character is less than thrilled to see Chad also nude in the shower with one leg up and only a clipboard hiding his bits.
Powell told fans that he saw the "Fuller House" star completely nude last month on a Facebook Live video. He joked,
Guys, I'm here with John Stamos. We've been staring at each other's wangers all day. I just want everybody to know, John Stamos' wanger looks like John Stamos' wanger. It is everything you dreamed it would be. He just calls it 'The Stag-mos.'
Stamos even revealed that the two characters do fall in love!
He told Harpers Bizarre,
I'm in a story line for two episodes right now where we're in love, Chad Radwell and Brock Holt. In fact, we did a pretty dramatic shower scene the other day. It's just outrageous. I've really never done this kind of thing and I feel like Farrah Fawcett or Raquel Welch when they posed nude in Playboy, like 'I'm gonna show my body!' I don't know, I fought it at first and then I said, 'oh, fuck it, what do I have to lose?'
"Scream Queens" airs on Tuesdays at 9:00 pm on Fox.
Citations: Warning contains nudity! John Stamos and Glen Powell strip down and share a steamy shower scene in Scream Queens (Daily Mail)