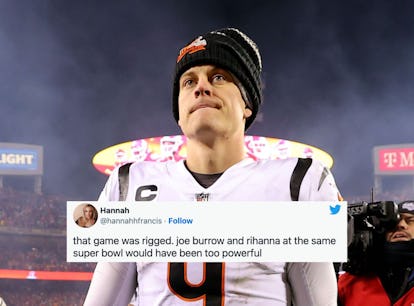 Thirsty Joe Burrow Fans Reacted To His Championship Loss On Twitter & TikTok
Kevin C. Cox/Getty Images Sport/Getty Images / Twitter
Even if you know nothing about football, you've probably heard of Joe Burrow. In January, there was a viral video about Burrow's fanbase, with TikToker @mikegotchalk saying, "You think your girl doesn't know anything about football. Ask her who the quarterback of the Bengals is. She probably knows what number he wears... She's familiar with Joe Burrow." (It has nearly 380,000 likes, over 7,000 comments, and 2.6 million views, pretty much proving @mikegotchalk's point.) After the Bengals' AFC Championship loss on Jan. 29, which meant the team — including Burrow — would not be playing in the 2023 Super Bowl, thirsty fans took to Twitter and TikTok to mourn the loss.
ICYMI, on Jan. 29, the Cincinnati Bengals played the Kansas City Chiefs. They were tied at 20-20 until the very end of the game, when the Chiefs pulled ahead by three points. "Tough loss — we didn't make the plays we needed to win this game and they did down the stretch, and that's what it came down to," Burrow told reporters after the game. "This one hurts, but we'll come back stronger."
Burrow might be keeping his spirits up, but his fans are having a hard time following suit. One commenter summed it all up: "The girlies did not win this year." Another wrote, "I literally mourned the loss of the Joe thirst traps last night during those last few seconds 🥺."
After the loss, Twitter and TikTok was full of people wishing for a different result. Here are some of their most relatable (and thirstiest) reactions.
Though the hardcore Burrow fans might not like this reminder, the quarterback has been dating his college sweetheart, Olivia Holzmacher, since 2017. The two met at Ohio State University, and they've been supporting each other ever since. On Jan. 29, Holzmacher was in the stands, rooting for Burrow. "GL9," she wrote on her Instagram Stories, tagging Burrow. (His number's 9, BTW.)
Even though the Bengals didn't win the AFC Championship, and the Burrow girlies are missing out on watching him play another game, there's always next season. As Burrow told reporters, "We'll come back and have a great offseason, get better as a team and individually and come back next year ready to go."