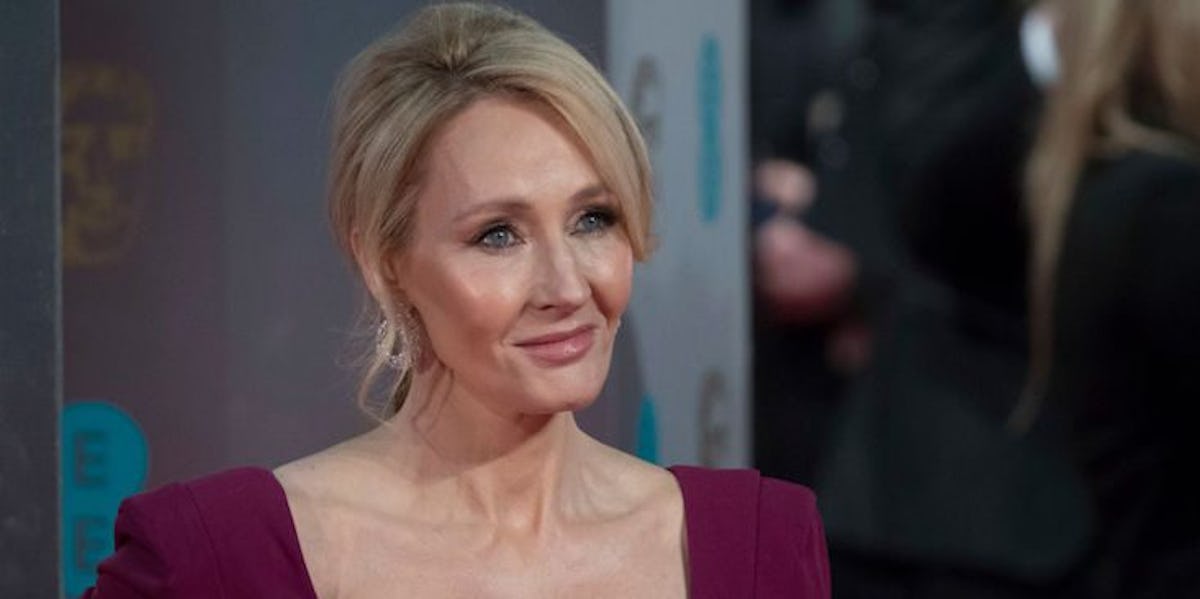 Attention 'Harry Potter' And 'Sherlock' Fans: JK Rowling Has A New Detective Show
John Phillips/Getty Images
Remember a few years ago when Harry Potter author JK Rowling secretly wrote and published a mystery crime novel, The Cuckoo's Calling, under the pseudonym Robert Galbraith? And how that secret lasted about two seconds, and everyone found it was her? Well, now that book is officially a TV series. JK Rowling's trilogy, Cormoran Strike has been adapted to a BBC series, Strike: The Cuckoo's Calling, set to premiere on BBC One this Aug. 27.
In case you're not a "true fan" who's read every word Rowling has ever penned (JK, I haven't read them, either), here's a quick summary: Cormoran Strike is a former-solider-turned-private-investigator (played by actor Tom Burke in the TV show) who solves crimes in London with his assistant, Robin Ellacott (played by Holliday Grainger).
Crime solving in London with a detective and helper? It's hard not to get Sherlock Holmes vibes from this whole thing, especially with BBC's recent highly successful series Sherlock. But Ruth Kenley-Letts, executive producer of Strike: The Cuckoo's Calling, says this Rowling adaptation is neither Sherlock-y nor Potter-y. In an interview with The Guardian, Kenly-Letts said,
What makes Strike an exceptional investigator is that he just works very hard. He's not like Sherlock – blessed with the ability to see everything. He's a former soldier who lost a leg in Afghanistan and who had a difficult upbringing. He's not magical. There's something appealing about that. It makes a nice change to have a show where the crimes aren't solved in a clever-dick way but because they put the effort in.
Ben Richards, the writer who adapted the first book in the series, added,
There is a gentleness to it which I think has been missing for a long time in crime dramas where we're often a bit too obsessed with having crazy twist after crazy twist.
So no magic and no Sherlock dickery and twists. Perhaps some Sherlock and Potter fans will be disappointed by this, but don't worry — the show will still have JK Rowling's touch all over it. The writers met with Rowling several times while adapting the novels, and praised her takes on the characters. Writer Tom Edge said,
She's someone who cares deeply for her characters, so she was never just going to throw over the books and say, see you next year. She was incredibly supportive, very generous – and always able to articulate with real precision when a character moment wasn't working.
So if you're looking for that signature Rowling touch, look no further than the characters. There's no American premiere date yet, but Strike: The Cuckoo's Calling will hit BBC One August 27. (So just use your summoning charms then, AKA Google.)