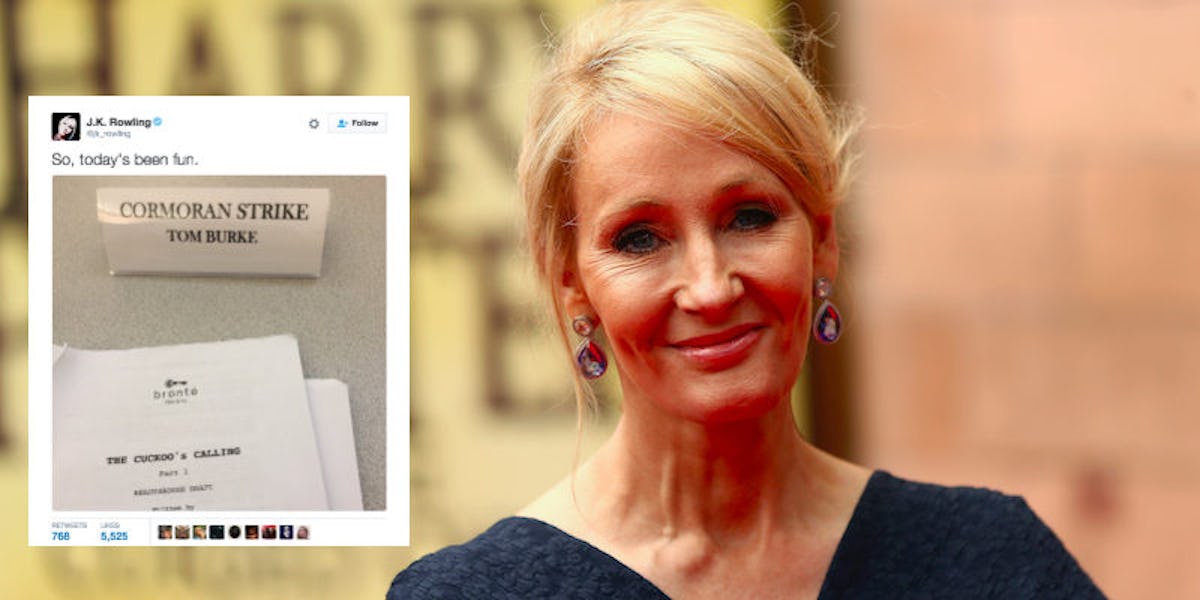 JK Rowling's 'Cormoran Strike' Books Are Being Turned Into An HBO Series
Reuters/Twitter
I think we can all agree that 2016 has been a shitty year, unless you happen to be a Chicago Cubs fan, or JK Rowling.
Are you repeatedly casting "Avada Kedavra," JK? Because you are killing it.
Not only will "Fantastic Beasts And Where to Find Them" become a five-part movie franchise and Johnny Depp have a starring role in the second installation, but now her other book series is coming to HBO.
You know HBO. It's that network with boobs, dragons and Wild West sex robots.
JK Rowling's three "Cormoran Strike" books will be turned into a three-part limited series produced by her production company Brontë Film & TV.
And if you already love the book series, get amped. The first installation of "The Cuckoo's Calling" will be three hours long. That's longer than any of the "Harry Potter" films, by the way.
The lead character, private investigator Cormoran Strike, will be played by Tom Burke (HMM, HE SHARES THE SAME NAME AS BORGIN AND BURKES? INTERESTING...).
ARE YOU A DEATH EATER, OR NOT?
After "The Cuckoo's Calling" is produced, next will follow "The Silkworm" and "Career of Evil," both of which will clock at two hours long.
Career of Evil is also a subcategory on my LinkedIn page. What a coincidence!
Filming is set to begin this fall. Dang, *checks calendar* that's now!
I for one cannot wait to watch this mystery, which was originally written under JK Rowling's pen name Robert Goldbraith, unfold on my HBO GO account.
Fine, it's my parents' HBO GO account.
In case you haven't read it yet, the plot of "The Cuckoo's Calling" centers around the peculiar death of model Lula Landry and Cormoran's insistence that it was murder most foul!
I don't know about you, but I'm beyond pumped for this series to come out. This will be fiction at its finest.
Citations: J.K. Rowling's 'Cormoran Strike' Limited Series Heads to HBO (/Film)