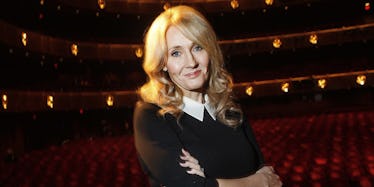 JK Rowling Posted Her Rejection Letters To Inspire Others To Never Give Up
Carlo Allegri/Reuters
NEVER! SAY! NEVER! *I am immediately asked to get down off the table in the middle of Barnes & Noble.*
Unless you're a Kardashian or a Kennedy, rejection is a normal part of life. Not all of us get everything we want, and as you get older, your dreams get bigger, meaning rejection only gets harder.
Not getting onto the JV hockey team doesn't hurt as much as not getting into the college of your choice, which doesn't hurt as much as not getting that cool internship, which doesn't hurt as much as not getting that great job, which doesn't hurt as much as having your girlfriend of six years reject your proposal in front of everyone at the minor league baseball stadium where you thought it would be a good idea to propose because you let your dumb friends convince you nothing is more romantic than being forced to accept a ring in front of 2,000 people on a field where the Brooklyn Cyclones are about to face off against the Jackson County Jackals. (Danielle, if you're reading this, I'm sorry.)
Anyway, as it turns out, JK Rowling is right there with all of us when it comes to facing rejection.
In an incredibly honest series of tweets on Friday, Rowling shared her brushes with rejection after a fan tweeted she would use Rowling's life story as motivation to never give up.
The famous author responded to Dianne's tweet with some good advice.
She was then asked by another fan for pictures of the rejection letters.
Rowling confessed she still has her "Harry Potter" rejection letters in her house, but they are apparently tucked away in her attic. So, she offered, instead, to show rejection letters for the books she wrote under the pseudonym Robert Galbraith.
The Potter ones are now in a box in my attic, but I could show you @RGalbraith's? https://t.co/McGYViYvqp — J.K. Rowling (@jk_rowling) March 25, 2016
While one letter is a flat-out rejection of her book, the other offers some comical advice for the author of the world's most popular books (after the literal Bible).
The publishers at Constable & Robinson apparently failed to see the commercial success in publishing the book, suggesting Rowling should buy a writer's handbook and go to bookshops to find out which publishers specialize in fiction. They also said she should consider sending an "alluring 200-word blurb" to each editor and cite successful authors in the genre.
Successful authors, you know, like JK Rowling.
She also pointed out this fun little tidbit you can all use when you're trying to *puts on cool sunglasses* block out all the haters.
BURN!
Citations: JK Rowlings rejection letters give hope to the writer in us all (Mashable)