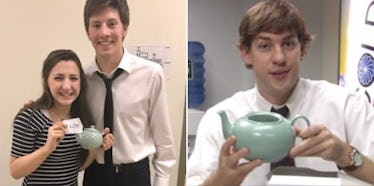 HS Senior Replicates Adorable Jim And Pam Scene For 'The Office' Promposal
Twitter/NBC
Some kid in Texas planned a promposal based on "The Office," and it was absolutely adorable.
Even though "The Office" hasn't aired a new episode in almost four years, Jim and Pam are still a touchstone when it comes to #couplegoals. Other TV relationships have come and gone, but none are quite as relatable and oddly inspiring as what the two of them had.
*Looks out of rainy window* Maybe one day...
So it was a really smooooooooth move when a Texas senior named Davis Looney decided to ask his girlfriend, Cameron, to prom in the most classic Jim Halpert way possible.
Boys, take notes. THIS is how you get a girl to go to prom with you.
For starters, Davis put on some Jim cosplay to make himself look as Scranton-y as possible. He then gave Cameron a green teapot with a note that read "Prom?"
For those unfamiliar, in the second season of the show, there is an episode that sort of revolves around a game of Secret Santa. Jim gets Pam a green teapot stuffed with a bunch of their inside jokes and a letter where he reveals his feelings for her.
According to Looney,
Jim was always so creative and clever with his gifts to Pam. I was inspired by his gift to her in the 'Christmas Party' episode, and decided to do the same sort of thing with Cameron in the form of a promposal. She's awesome — totally deserved it.
OK, it's cute, but is it GOOD. That is the only question that matters when it comes to promposals. They're all cute, but only a few of them are certified GOOD.
Office alumna Jenna Fischer has weighed in on what she feels about Looney's promposal, and we now have an official verdict:
GOOD.
IT'S GOOD!
Davis, great job. The rest of you now know the bar that's been set.
Citations: This The Office-Themed Promposal Got Jenna Fischer's Stamp of Approval (Teen Vogue)