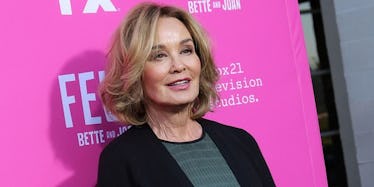 Here's Why We Probably Won't See Jessica Lange In 'American Horror Story: Cult'
(Photo by JC Olivera/WireImage)
For the first four seasons of American Horror Story, there were four actors who were consistent across all story lines: Evan Peters, Jessica Lange, Sarah Paulson, and Lily Rabe. They featured in AHS: Murder House, Asylum, Coven and Freak Show, with Lange receiving Emmy nods for every year she was involved, two of which lead to wins (for Murder House and Asylum.) She also picked up a Golden Globe and a Screen Actors Guild Award for her work. So why isn't Jessica Lange in American Horror Story: Cult?
Lange walked away from the series after the four years, and the show has had to work to find someone to take the place of her character type since. The role that most likely would have gone to her in Season 5's AHS: Hotel was instead filled by Stefani Germanotta, aka Lady Gaga. (Who did so to quite a bit of acclaim, we should note.) At the time, creator Ryan Murphy said that Lange was merely "taking the year off" because she had chosen to commit to a live theater production, an understandable excuse for an actress of her caliber.
But then Season 6, AHS: Roanoke came and went, and once again there was no Lange to be seen.
So what happened? When asked by Huff Post, Lange said she was just done with the series.
I had four years with that, four seasons, and each year was a marvelous character. Everything changed from one year to another which made it very interesting to me. But no, I think sometimes you come to the end of something and it has had its natural one...
Not that Lange is done working in Ryan Murphy productions. This past spring she starred along side Susan Sarandon in the inaugural season of Feud, which focused on Bette Davis and Joan Crawford.
We certainly won't be surprised if we see him cast her in yet another one of his other myriad projects going forward. But it seems that, for now, Lange is done with the world of American Horror Story. Until the lady changes her mind, anyway. And we know, that's always her prerogative.