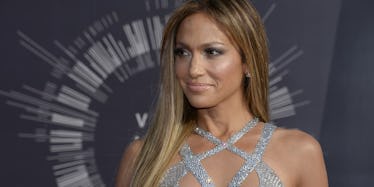 5 Reasons Gen-Y Has An Eternal Obsession With Jennifer Lopez
REUTERS/Kevork Djansezian
Admittedly, I am a Latina. But I am not biased when I say Jennifer Lopez is legitimately a celestial being from the planet Venus. This woman is no joke. She's gorgeous, brilliant and incredibly talented.
If you're a die hard JLo fan like myself, then your (healthy) fixation goes far beyond her impeccable style and classic rom-coms. You're just-like-JLo goals have resulted in late nights on YouTube watching vintage footage from her "fly girl" days on "In Living Color," not to mention snippets from one of her first music video appearances on Janet Jackson's "That's The Way Love Goes."
With that said, here are five reasons why JLo slays:
1. "Anything for Selenas!"
Hispanic or not, the 1997 biography tear-jerker "Selena" was a total hit. Despite its overall nostalgia, the movie was influential and addictive, to say the least.
Whether you were singing to "Como La Flor," or mimicking Selena's "washing machine" and cumbia dance moves in your living room as a kid, JLo made all of our hearts go "bidi bidi bom bom."
2. She's got serious moves.
Lets get one thing straight, Jenny from the block can seriously break it down. There's not one performance that doesn't have me at the edge of my seat, and I know I'm not alone here.
Yes, she obviously brings out the Latina in me, but JLo's confidence and sex appeal are two of the many reasons why she is an amazing performer. Her soulful Caribbean roots ooze through her choreography, and when she's on stage you literally can't take your eyes off her.
3. We live vicariously through her steamy Hollywood love affairs.
P. Diddy, Ben Affleck, Marc Anthony, Casper Smart — the list continues, and I'm not even hating. You go, Glen Coco.
If there's one thing I appreciate about Jennifer, it's her smoldering passion. JLo loves hard, and she isn't afraid to fall, even if it's for the wrong man. She reminds me of Elizabeth Taylor in the quote where she says, "I've always admitted that I'm ruled by my passions."
I genuinely believe she has loved and continues to love every single one of the men she's dated. During an interview with Diane Sawyer, JLo admitted she had suffered a lot throughout the years. And for the first time in her life, she cried incredible tears of happiness when Ben Affleck proposed to her. In her HBO Documentary, "Dance Again," JLo broke down in tears and said she felt she was going to die when her marriage to Marc Anthony came to an end.
When JLo mates, it's for life. It's got to be that can't-eat, can't-sleep, reach-for-the-stars, over-the-fence, World Series kind of stuff.
4. She's an ageless goddess.
This woman can twerk effortlessly for long periods of time, while wearing the hottest, most glamorous costumes, and yet, she still looks flawless.
The world is JLo's stage, and she's made one thing crystal clear: She does not age. Like, at all. I mean, I get it. Everyone has their peak, but she's been peaking for quite some time.
There are great mysteries in life, and then there's JLo age...
5. Everything she touches turns to gold.
JLo is a mother, dancer, singer, producer, actress and entrepreneur. In other words, she is everything in Hollywood. Jennifer Lopez has literally been successful in every single one of her endeavors. It's almost record-breaking.
In the words of our idol, "I've never tried to hide the fact that I'm Latina. I think that's why Hispanics are like 'She's ours. She's out there, but she belongs to us,' and that's true. With the Latino community, I am theirs. I do belong to them. That's who I am."
We love you, JLo.