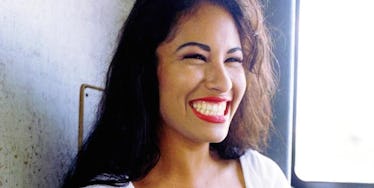 How Selena Would Have Influenced Today's Culture If She Were Here
Let's talk about Selena, the real Selena -- not Selena Gomez.
The 20-year anniversary of Selena Quintanilla's death is upon us, and it breaks my heart so many young people have no idea who she is.
Selena was the original BOSS.
Time magazine said Selena "was the embodiment of young, smart, hip Mexican-American youth wearing midriff-baring bustiers and boasting a tight-knit family and a down-to-earth personality, a Madonna without the controversy."
By the age of 23, the Mexican-American artist had taken over tejano music, a completely male-dominated field. She was the first recording artist ever to place five Spanish-language albums simultaneously on the Billboard 200.
Her Grammy-nominated 1994 release, Amor Prohibido, went platinum, as did her 1993 Grammy Award-winning album, Selena Live!, as well as her 1992 album, Entre a Mi Mundo.
She was well on her way to an English crossover and the posthumous release of her English album, Dreaming of You, proved there was a market for it.
Sadly, at the age of 23, Selena was murdered at the hand of her fan club president, Yolanda Saldívar.
The tragedy was devastating for so many reasons, but for me, personally, because I lost the chance to grow up with a Hispanic role model who didn't capitalize on her sex appeal, but embraced her talent and business sense while taking pride in her Mexican roots.
It might be a bit idealistic, but I believe had she lived, Selena would have been up there on the pop charts with Britney Spears, Christina Aguilera and the Spice Girls of the world.
She had the potential to be just as influential as them. She was well on her way.
Here are some ways things might have looked a little bit different if Selena were alive today:
Body Image
"I eat anything, and I'm not preoccupied with my figure. The most important [thing] is that the people accept me for my music, not for physical appearances." — Selena Quintanilla
I grew up Puerto Rican in a white world, idolizing white pop starlets. I wonder how my self-worth and body image might have been different had I grown up with Selena on the pop charts. I wonder how so many young Latinas might be valuing themselves differently.
Selena looked like my family and friends. She had dark features, full lips and curves. She was beautiful, dynamic and sexy, without being trashy.
I remember a time when we thought Selena was the most beautiful woman in the entire world and wanted to be just like her. After her death, her memory faded and the Britney Spears' of the world were the most beautiful women to me, women I could never look like.
It's interesting how when I was 5 years old singing to Selena, I loved my dark hair and curls, but a few years later, I was trying to paint my hair yellow and already thinking about dieting at the ripe age of 8.
Instead of growing up with Selena, I grew up with Jennifer Lopez as my main Latina role model, ironically, because of Selena. Jennifer Lopez did bring the booty back. Thank you, Jenny from The Block.
But, in doing that, she also actively contributed to the highly sexualized Latina that so often occupies our collective consciousness. It's one thing to embrace your curves, but that is where so much of her work ends.
She often played white roles on film and television, and she didn't actively contribute to the forward movement of the Puerto Rican or overall Latino community for many years.
It isn't until fairly recently Jennifer Lopez began to embrace her ability to be a role model. It's about time, my friend.
At the age of 23, Selena was already doing that, and had been doing it for years. She knew how important it would be for young Latinas to see her making moves.
Selena was teaching women to embrace their sexuality, but not to capitalize on it; to instead focus on our talents and gifts. She was teaching us to let our curls fly and our curves shake while focusing on our education and kicking ass in a man's world.
The Role of the Latino-American
"I feel very proud to be Mexican. I didn't have the opportunity to learn Spanish when I was a girl, but it's never too late to get in touch with your roots." -- Selena Quintanilla
Separate from her Mexican roots, Selena presented a version of a Latina that is familiar to my circles. She is third generation and often had to straddle the line of Mexican and Mexican American, like so many Latinos have to do.
As a third generation Puerto Rican myself, I often find myself struggling with the nuances of a Nuyorican.
Selena was an example for young women who aren't Latin enough for the Latin community, or white enough for the white community.
She embodied the multidimensional experience that is being Latina. She had strong American influences in her music, like Madonna and Janet Jackson, and blended it with cumbia. She was able to live in both worlds.
That could have been a game changer for teenagers like myself, who loved La India, Lauryn Hill and Britney Spears. Selena said it's okay to love it all -- it doesn't take away from your roots.
Mexicans in America
"Anywhere in the world you go, you find racism, discrimination. Not just in the United States, or in Texas. It's very sad for me, but that's the way it is. I can't change the world by myself. I, being Hispanic, have also faced discrimination. But … the world keeps turning." — Selena Quintanilla
All Hispanic people are marginalized in America, but it could be argued none more so than Mexicans. Whenever someone makes a generalization about Hispanics, they use Mexicans.
People, oftentimes, don't see Mexicans as humans. Just think about the last immigration reform conversation you overheard.
Mexicans are generalized, as all Hispanics are, as the immigrants who are taking jobs from hardworking, white Americans, or the "sex pots" who are taking men away from white "American" women. It's nonsensical.
Selena had a very strong relationship with her Mexican fans and her Mexican-American fans. She was an active voice for her community and set a very loud, very positive role for Mexicans in America.
How many Mexican and Mexican American celebrities do we know who embrace that and actively open a dialogue about the roles of Mexicans in America?
One of the biggest Mexican-American celebrities out there is Eva Longoria, who, arguably, is not mainstream anymore. Eva is an incredible woman making huge strides forward for the Latino community right now.
I can't say enough good things about her, but when it comes down to it, she broke into the industry by playing a sexual deviant on "Desperate Housewives," and eventually went on to executive produce a show called "Devious Maids" about four Latina maids.
I wonder how Selena might have influenced white America's view of Mexicans by presenting an empowered Mexican-American woman 20 years ago. What might circumstances for Mexicans look like now, had we opened the dialogue sooner?
In fact, this isn't to say there aren't amazing activists out there, or there weren't in the 90s, but they're not getting a lot of mainstream airtime, probably because they don't have number one songs on the radio.
We needed that gateway, and Selena very well could have been it. It's unfortunate, but true that it often takes someone who is extremely mainstream to open the larger dialogue for change in America.
Think of what Beyoncé did for feminism. She isn't the first person to embrace the word, but she is the first international pop sensation with a number-one album to get on stage and display the word "feminist" behind her for the entire world to see.
We are actively influenced by musicians at the top of the charts.
Selena's death wasn't simply a tragedy of a youth taken from us too soon, but rather, it was an entire movement taken from us too soon.
This movement in the Latino community is gaining momentum and making its way to the mainstream because of activists like Eva Longoria, amazing young role models like Gina Rodriguez, killer filmmakers like Alejandro González Iñárritu and more.
Had Selena lived, we might be further along. Not only would my fellow Latinas and myself have grown up with a woman making pop music who looked like us, but also a woman who was well-accomplished, powerful, charitable and making a difference for her community, my community.