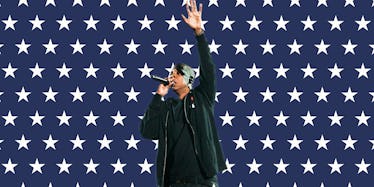 Jay Z Just Dropped An Extremely Powerful New Song Addressing Police Brutality
REX/Shutterstock
Jay Z responded to the tragic police shootings of Alton Sterling and Philando Castile late Thursday evening with the release of a song titled "Spiritual."
In a statement released on Tidal's Twitter, Jay revealed his intention to release the song long before Sterling and Castile's deaths.
He wrote,
Punch (TDE) told me I should drop it when Mike Brown died, sadly I told him, 'this issue will always be relevant' …I'm saddened and disappointed in THIS America — we should be further along. WE ARE NOT.
Jay wished blessings upon those suffering the effects of police brutality and ended the tweet with a quote by legendary abolitionist Frederick Douglass.
In the song's refrain, Jay raps,
I am not poison, no I am not poison Just a boy from the hood that got my hands in the air in despair don't shoot I just wanna do good, ah
The Brooklyn-born rapper's release of "Spiritual" closely followed wife Beyoncé's open letter — shared via her website — condemning police brutality and "the war on people of color and all minorities."
Bey wrote,
This is a human fight. No matter your race, gender or sexual orientation. This is a gift for anyone who feels marginalized, who is struggling for freedom and human rights… Fear is not an excuse. Hate will not win.
The Grammy winner included a link to allow fans, followers and concerned citizens to contact local politicians and legislators in the hope of finally putting an end to the senseless loss of valuable lives.
Citations: Jay Z Releases Police Brutality Song "Spiritual" (E! News)