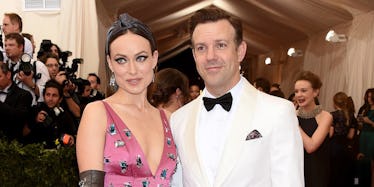 Jason Sudeikis And Olivia Wilde's Valentine's Day Plans Prove They Are The Coolest
Getty Images
It's official: Jason Sudeikis and Olivia Wilde are the cutest duo in the history of celebrity couples.
In an appearance on "The Ellen DeGeneres Show," Sudeikis revealed the couple's ultra-cool Valentine's Day plans include attending the NBA All-Star Weekend in Toronto, Canada. Sudeikis, who will be playing in the Celebrity All-Star game, joked it's "every girl's dream."
Hey, if you managed to snag Marissa Cooper's ex-girlfriend, you must be doing something right.
Also speaking of buddy Will Forte's insane half-skinhead-half-wilderness-guide facial hair, Sudeikis said the funniest thing:
You do get used to it. By the time you've been around it for four hours, it's kind of like boobs in the movie "Showgirls." You know, the first act you're kinda like yo, Jessie Spano, what are you doing? By the third act, you're mostly just into the story.
Watch the video above for a couple laughs and lots of "aww" moments.