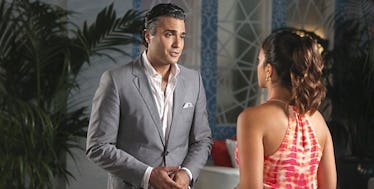 'Jane The Virgin' Star Jaime Camil On What Fans Can Expect In Season 4 – EXCLUSIVE
CW
Fans of Jane The Virgin know Jaime Camil as Rogelio De La Vega, Jane's earnest, telenovela star father whose benign narcissism is frequently mined for some of the series' best one-liners.
The real Camil is a classically trained opera singer, Broadway actor, and, yes, telenovela superstar all across the Americas.
Elite Daily had the chance to speak with Camil at the premiere of Marvel Universe Live! Age of Heroes at the Staples Center in Los Angeles on July 9. He was accompanied by his young son and focused on hunting down Spiderman.
In real life, Camil is a down-to-earth, devoted father with all of Rogelio's talent but none of his attitude.
But the perpetually self-adoring Ro did rear his head once during our interview, when the conversation turned to Jane being a great role model and Camil teased, "But of course, she has great DNA."
When asked what advice he might give to Jane for Season 4, Camil told us:
Oh my god, oh, that's a difficult one because we are very committed parents my wife and I, and I think that parents should be involved.
He subtly disqualified Rogelio, who didn't meet his daughter until she was an adult, from giving Jane any major advice.
OK. How about Camil the actor? Any advice for Jane?
Not really. He told us,
So, I think just keep doing what you're doing because Jane is amazing. No special advice there.
But that makes sense. Jane's obviously a badass -- tell us something we don't already know.
When asked about what fans can expect in the upcoming Season 4, Camil revealed:
Season 4 is gonna be a big one for me because, as you saw in the season finale of Season 3, Darci ended up pregnant. So it's gonna be a fun one for Rogelio. He's gonna have a kid, a girl, and it's gonna be messy for him. But at the same time any time it gets messy for Rogelio, it gets funny for the audience.
Season 4 of Jane the Virgin premieres this October on the CW.
Original reporting by Stephanie Ironson.