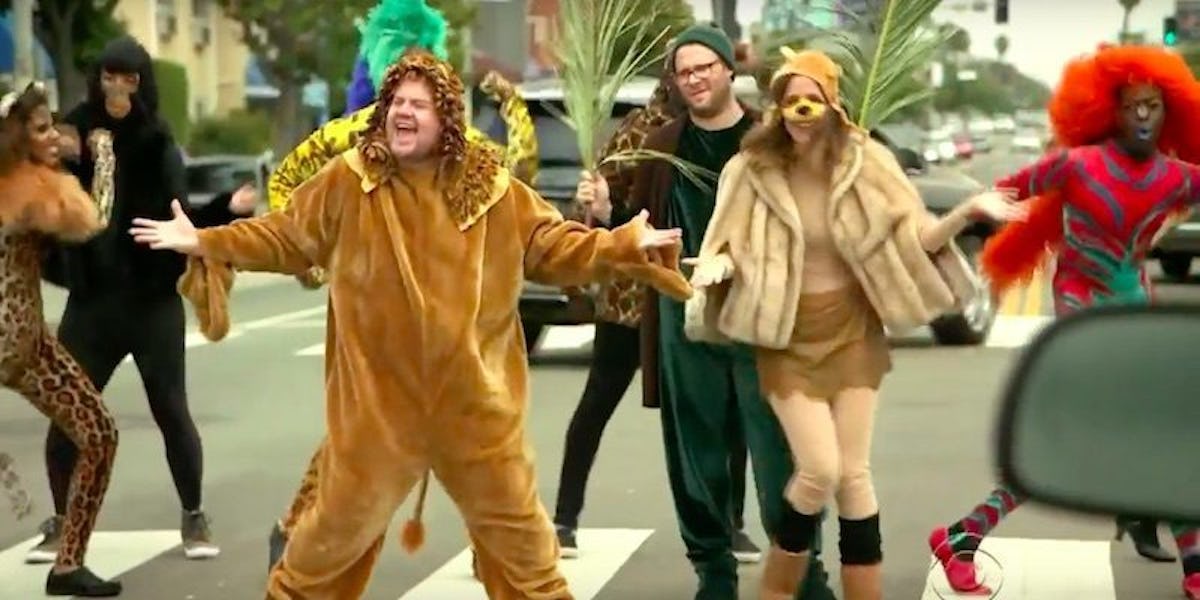 James Corden And Seth Rogen Put On A Glorious Production Of 'The Lion King'
YouTube
There have been a lot of amazing renditions of Broadway's "The Lion King" over the past 20 years, and I can say with confidence I never thought I would see Seth Rogen star in one of them.
James Corden's "Crosswalk the Musical" skit is back, this time with Seth Rogen and Rose Byrne, who stopped by "The Late Late Show with James Corden" while promoting their new film, "Neighbors 2: Sorority Rising."
Seth professes he thought he was there to "be one of the people on the couch," but James had other ideas for the stars.
Rose, who has a theater background, took to it immediately. Seth, on the other hand, just gets more and more confused, and as rehearsal goes on, he gets pushed to the sidelines by James.
The big show was performed (which starts about five minutes into the clip) on the crosswalk of Beverly Boulevard and Genesee Avenue.
The cast squeezed in three songs and a curtain call during the crosswalk countdown, while drivers and fellow pedestrians looked on, bemused. Even Seth got into his role as the moon.
Well, I can't say it was the best production of "The Lion King" I've ever seen, but it certainly had a lot of energy.