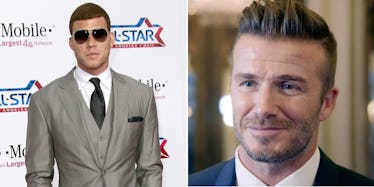 5 Athletes Who Would Totally Kill It As The Next James Bond
REX/Shutterstock
James Bond is one of the most iconic fictional characters in history. First created in the early 1950s, Bond has found his way onto numerous platforms including television, comics and, most notably, film.
The "James Bond" film series features numerous actors taking on the legendary role such as Sean Connery, Pierce Brosnan and Daniel Craig, the most recent Bond.
After Craig reportedly declined to reprise his role for future films, the highly coveted spot is now vacant for the first time in a decade. While the role is sure to be filled by a Hollywood A-lister in no time, film producers should make an effort to look to another medium of celebrities to find their new leading man: sports.
While not many athletes have the acting skills to take on such a daunting task, there are several who pertain Bond-like characteristics that would translate nicely on the silver screen. Here are five athletes who could take on the role.
David Beckham
Arguably the most important characteristic of James Bond is his nationality, English. Who better to take on the legendary role than one of England's favorite sons, David Beckham?
The footballer left fans in awe for over 20 years with his incredible skill and will to win. His crafty style of play coupled with his suave and charming nature would make him an excellent Bond. Not to mention, he already has a pretty damn good lookin' Bond Girl in Victoria Beckham.
Blake Griffin
One of Bond's most likable traits is his uncanny wit. His quick and clever sense of humor allows him to turn horrible situations into good ones in a matter of seconds. One of the sport's wittiest athletes, Blake Griffin would shine in these situations.
The Clippers' power forward has demonstrated his comedic chops on numerous occasions, including bits with Funny Or Die and even stand-up performances at the legendary Laugh Factory comedy club on Sunset Boulevard. Also, he would be a pretty imposing Bond as well. At 6'10" and 250 pounds, his enemies would tremble in fear.
Conor McGregor
Bond is always able to defend himself. No matter what the situation or who is opposition may be, he always comes out on top. His abilities to read people, stay aware and tactically engage his opponents are all basic fundamentals of martial arts.
Conor McGregor, one of today's most popular and successful mixed martial arts fighters, would thrive in these circumstances. His ability to calculate precise attacks all while exuding great confidence screams James Bond. Good luck to anyone who crosses paths with "The Notorious One."
Henrik Lundqvist
You will never catch James Bond poorly dressed. A clean, perfectly tailored suit or tuxedo is synonymous with the character, as well as the New York Rangers' goaltender Henrik Lundqvist. Widely regarded as one of the best-dressed athletes in all of sports, Lundqvist is always seen dressed to the nines both before and after the game.
As the old saying goes, "You look good, you play good," and this notion certainly holds true for Hank, as he is one of the best goaltenders in the NHL. Also, doesn't he just look like a James Bond? Adversaries wouldn't stand a chance after getting lost in those frosty blue eyes.
Tom Brady
Above all else, James Bond is a winner. The man always comes out on top. Just when you think he's about to slip up, he bounces back better than ever. Sure sounds a lot like Tom Brady. The New England Patriots' quarterback has been playing at an elite level since his arrival into the NFL in 2001.
His 15-year run of success includes four Super Bowl rings, among numerous other accolades. Like Bond, Brady's success is a result of tireless preparation and flawless execution. He, paired with supermodel wife Gisele Bündchen, would light up the screen.
The James Bond role will certainly be cast in the near future with an established actor, and the franchise will continue to roll on producing highly successful films. But while these five athletes have experienced great success in their respective domain in sports, who knows, maybe they could carry over to the big screen, too.