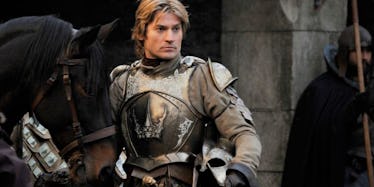 Jaime Lannister From 'Game Of Thrones' Shares His Best Dating App Advice -- WATCH
HBO
With Game of Thrones only a few short weeks away, all the stops are out in the promotional department. Actors are headlining cover stories for magazines, like Nikolaj Coster-Waldau, for example, whose brand new cover story for GQ just dropped.
Coster Waldau is full of useful advice about being famous in the article. "When you're on your bicycle, no one looks for you," for example.You know, practical advice. He also states he expects the next couple of seasons on Game of Thrones to "end in a lot of death."
Said advice also extends to dating apps and social media, among other things. Check out the video, as Coster-Waldau runs down some of Jaime's more intimate opinions.
Some juicy tidbits about Jaime Lannister's social media life in Westeros: He's a big fan of SnapChat. (No word on how Myrcella or Tommen felt about their father-uncle in rabbit ears though.)
Apparently, Jaime's preferred profile pictures on dating apps are painted portraits, which sounds like a good idea, until you consider if you need a frame within the frame, as it were, to be part of your avi.
Despite his devotion to Cersei, Jaime is on Westeros' version of Tinder. According to Coster-Waldau, he always swipes left -- though whether that's to keep women safe from Cersei's jealousy is unknown. He insists the only way to get his attention is to be related. Closely related.
Some other interesting tidbits: Jaime apparently went vegan a couple of years back -- sounds like something that coincided with the loss of Jaime's hand and the reduction in his workout routine. It clearly forced him to find new and more hipstery ways to stay healthy. He apparently makes exceptions for Danish pastries, though.
I suppose perhaps learning to cook such things in a castle kitchen just might be the way to his heart... but only if Cersei throws him aside first, natch.
Game of Thrones Season 7 premieres July 16 at 9 p.m. ET on HBO.