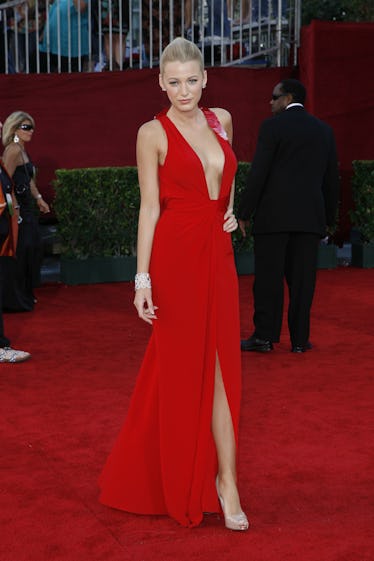 Attention: Blake Lively Is Officially In The Colleen Hoover Hive
She's headlining the film adaptation of It Ends With Us.
Fairchild Archive/Penske Media/Getty Images
There's something really special about seeing a movie adaptation of your favorite book and finally, all your favorite moments come to life on screen. It's even more special when that book is millions of people's favorite, and fans all over the world get to share in the experience. That's what's happening with the upcoming movie adaptation of Colleen Hoover's It Ends With Us. Get ready, because this one's going to be big.
Back in 2019, actor and producer Justin Baldoni announced that his company Wayfarer Studios would be producing the It Ends With Us movie. At the time, he wrote on Instagram, "So excited to be working with the brilliant Colleen Hoover to try bring It Ends With Us to the big screen!!! I'm so passionate about this book and so honored she chose me to help bring it to the world."
Wayfarer Studios also made the movie Five Feet Apart, so it's clear the team knows how to produce an adaptation of a tearjerker book. And fans know all eyes will be on the adaptation of It Ends With Us. After first getting published in 2019, it's sold over four million copies and is a mainstay on BookTok.
Here's everything to know about this highly anticipated movie.
It Ends With Us Plot
It Ends With Us tells the story of the love triangle between small-town girl Lily, Boston neurosurgeon Ryle, and Lily's first love, Atlas. Ryle has a "no relationships" rule, but soon Lily finds that she's his one exception. "As questions about her new relationship overwhelm her, so do thoughts of Atlas Corrigan — her first love and a link to the past she left behind," the book's description reads. "He was her kindred spirit, her protector. When Atlas suddenly reappears, everything Lily has built with Ryle is threatened."
It Ends With Us Cast
On Jan. 26, Hoover made a big casting announcement on her Instagram. She revealed that Blake Lively will star as Lily and Baldoni will play Ryle, in addition to directing and producing the movie. "I think that Justin Baldoni and Blake Lively have what it takes to bring these characters to life and I cannot wait for you guys to see that happen," she said.
Hoover also called Lively her "dream Lily," so the CoHo Hive should get pretty excited.
It Ends With Us Predicted Premiere Date
An official release date for It Ends With Us hasn't been announced yet, but production on the film will likely begin soon now that the cast is assembling.
It Ends With Us Trailer
Since production for It Ends With Us is only just beginning, there is no trailer yet. But watch this space for any and all sneak peek footage as it gets released.