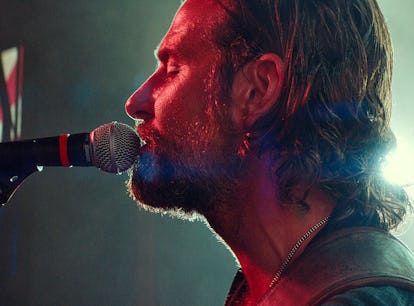 Here's The Truth About Bradley Cooper's A Star Is Born Character
Jackson Maine isn't technically based on a real person, but the character still has history.
Warner Brothers
A Star Is Born is about the rise of a new talent, played by a star who becomes synonymous with the film. Actors like Judy Garland, Barbra Streisand, and Lady Gaga have all held the coveted role. But the rise can't come with the fall of the older half of the couple, which in the latest iteration of the A Star Is Born films is Jackson Maine, played by Bradley Cooper. Although the character was initially based on an actor with a waning career, the 2018 reimagining made Jackson Maine a singer; the film is about Jackson Maine's death as Gaga's Ally Maine rises to fame. But some fans were a little perplexed by Cooper's character. He's such a plausible country-rock star, some wondered whether Jackson Maine's story was based on a real person. I mean, A Star is Born practically feels like a biopic.
The original 1937 A Star is Born movie was apparently inspired by a true story of the rise of a Hollywood starlet that coincided with the collapse of her (much older) husband's career. But that character, here called Jackson Maine, was not based on a real, specific person. In the 2018 version (which is the fourth iteration of the story), "Jackson Maine" is merely an updated version of an archetype that's lasted nearly a century.
But this doesn't mean Cooper didn't base his characterization on a real rock god. Speaking to Yahoo in September 2018, Cooper revealed his take on the character was an amalgamation of many rock and roll inspirations. He relied heavily on Pearl Jam frontman and '90s-era rock god Eddie Vedder to help create the details. "I went up to Seattle and spent four or five days with him, and I asked him 9,000 questions," Cooper admitted. "And he gave me minor, little things that only musicians know about what to do, just aesthetically and the inner workings."
So, where did the character of Jackson Maine originate and how much of him is based on reality? Let's dive into the history of the films.
This article was originally published on