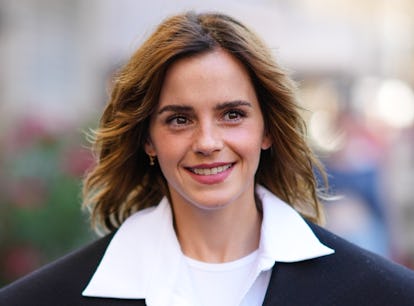 Emma Watson Took A Break From Acting Because She "Didn't Have A Voice"
"I wasn't very happy, if I'm being honest."
Edward Berthelot/GC Images/Getty Images
You haven't seen the last of Emma Watson, even if it may seem that she's been hiding under a invisibility cloak recently. The actor has been on a hiatus from the movie world for the past few years, which has sparked rumors that she's retired from acting. But now, Watson is opening up about why she stepped away from the spotlight, and teasing when she will return to a film set in the future.
The last movie Watson starred in was Little Women, which released in 2019. In the four years since, Watson has focused on activist efforts, only briefly returning to fans' screens when she reunited with the Harry Potter cast for HBO Max's 20th anniversary special in 2022. In an April 28 Financial Times profile, Watson got real about the discomfort she felt as an actor.
"I wasn't very happy, if I'm being honest," Watson said. "I think I felt a bit caged."
She went on to specify that she struggled with having to stand by projects that she didn't passionately believe in, because she had no creative control in making them. "The thing I found really hard was that I had to go out and sell something that I really didn't have very much control over," Watson said. "To stand in front of a film and have every journalist be able to say, 'How does this align with your viewpoint?' It was very difficult to have to be the face and the spokesperson for things where I didn't get to be involved in the process. I was held accountable in a way that I began to find really frustrating, because I didn't have a voice, I didn't have a say. And I started to realize that I only wanted to stand in front of things where if someone was going to give me flak about it, I could say, in a way that didn't make me hate myself, 'Yes, I screwed up, it was my decision, I should have done better.'"
Despite her frustrations with the film industry, Watson is not retired from acting. She confirmed that she will "absolutely" act again, but isn't in a rush to get in front of a camera until the right project comes along.
"I'm happy to sit and wait for the next right thing," Watson said. "I love what I do. It's finding a way to do it where I don't have to fracture myself into different faces and people. And I just don't want to switch into robot mode any more."