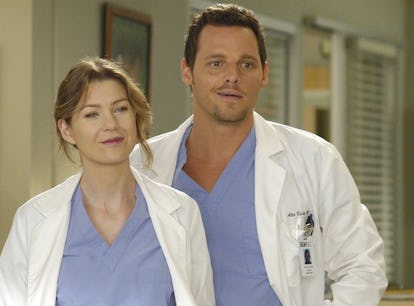 Here's Why Grey's Fans Think Karev Might Be Scrubbing Back In V Soon
TBH, he needs to come back if only to explain that messy exit.
ABC
A familiar face may be showing up at Grey Sloan Memorial Hospital very soon... or, at least, that's what the Grey's Anatomy fandom thinks. And it's all thanks to one little Instagram photo. Justin Chambers sent superfans into a spiral with a simple pic of a coffee cup, and now every Grey's Anatomy fan is wondering if Alex Karev will return in Season 19.
Dr. Alex Karev was a huge part of Grey's Anatomy's first 16 seasons, first being introduced as one of Seattle Grace's new interns back in the day and then growing into becoming one of the hospital's head surgeons. But he suddenly departed midway through Season 16, and left in a particularly messy, controversial fashion. But now, three years after saying goodbye to Grey's, fans think Justin Chambers may be hinting at a return for Karev.
The fan theory spring from an eyebrow-raising photo Chambers shared to Instagram on Jan. 31. Seemingly out of nowhere, Chambers shared a pic of a coffee cup with a photo of Meredith Grey, Miranda Bailey, and Richard Webber on the sleeve, with the caption, "A fresh cup of Grey's."
The comments section was quickly flooded with fans asking if the out-of-nowhere Grey's mention was a hint at him returning for a cameo. Adding some fuel to this fan-theory fire is the fact that Chambers has become notably more active on Instagram in 2023. His coffee cup post if one of six posts he's shared in 2023 — before this year, his IG grid consisted of only five posts ranging from 2018 to 2022.
And there's already an upcoming episode that would make for a perfect Alex Karev return. Ellen Pompeo previously revealed she'll only appear as Meredith in eight episodes of Season 19, and since she's already starred in the first six and is shown bidding farewell to her friends at Grey Sloan in the Episode 7 teaser, fans have deduced that Meredith will have one last, big emotional moment in the Season 19 finale. And of course, that finale would also be the perfect opportunity to bring back some familiar faces like Karev to give Meredith a proper sendoff.
A potential return for Karev would also be a big deal considering how he left the show. He dropped a huge bombshell on his way out, revealing that he had suddenly dumped his wife Jo in order to restart things with his ex Izzie after learning she'd given birth to twins using embryos frozen during her marriage to him. The messy situation was all the more confusing considering it was relayed through notes Karev left his friends after ghosting them. So, it would be really nice to see him finally return to fully explain what the hell was going on with all that.
Grey's Anatomy Season 19 will return from its midseason hiatus on Feb. 23.