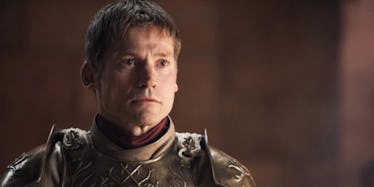 The Internet Already Knows How 'Game Of Thrones' Will End, Jaime Lannister Confirms
HBO
The question that's plagued "Game of Thrones" fans for years can actually be solved with a quick Google search, according to Jaime Lannister.
Yep — apparently, the big conclusion to the whole Westeros saga has already been predicted online by fans!
But the problem is actually finding that correct prediction among the millions of incorrect fan theories...
"Game of Thrones" star Nikolaj Coster-Waldau told the Observer the Internet has "definitely" already accurately posted how the show ends, but it's not like any of us would know it when we see it.
If you go online you can definitely read every plot point that's going to happen. You can find the ending of 'Game of Thrones' on the internet. It's there. But you wouldn't know. Of course, nobody really wants to know.
Wow, big help, Jaime.
Of course, Nikolaj is right — "Game of Thrones" has become so insanely popular and beloved by fans that the internet is jam-packed with millions of different theories and predictions about what's going to happen next.
One of them is bound to be right.
Still, if you're a truly hardcore "GoT" fan, I'm sure this news will drive you to search out every last one of those theories and speculate endlessly about which one is the correct one.
But Nikolaj wasn't done teasing fans with more might-be-true-might-be-false "Game of Thrones' information.
He further illustrated his point that none of us will really know what happens on the show until it actually happens by flat-out saying how his character of Jaime Lannister dies... or does he?
Maybe I should try it one day. Just say, 'Yeah, here is exactly what happens.' You'd probably just go, 'Pfffft, no, it's not.'
This is his preamble before telling the interviewer Jaime will die from the fire of a dragon. Of course, that could be the complete truth or a total lie!
We'll just have to wait until "Game of Thrones" returns on July 16 to find out what really happens.
Citations: Nikolaj Coster-Waldau on 'Small Crimes,' Second Chances and Death by Dragon Fire (Observer)