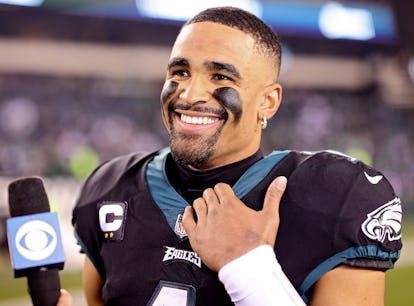 The Internet Is Thirsting Over Eagles Quarterback Jalen Hurts
This crush hurts so good.
Tim Nwachukwu/Getty Images Sport/Getty Images
Jalen Hurts is #1 on the field, but he's also #1 in plenty of hearts across the internet. The Eagles quarterback has more than made a name for himself this season, and his talent (plus, those pearly whites) have caught fans' attention across Twitter and TikTok — most of whom are crushing on the NFL player.
For the 2022-2023 season, the Eagles have an impressive record, with 16 wins and 3 losses. As the captain and QB1, Hurts has largely been credited with the team's success, and his positive attitude has only made him more of a fan-favorite. (Even Gabrielle Union said her group chat is rooting for Hurts.)
In a press conference, Hurts told reporters, "Coach Stout always says hungry dogs run faster. I ain't hungry, I'm starving for this sh*t." Hurts' catchy quote became a slogan for the Eagles for obvious reasons. As one fan put it, "I would run through a brick wall for this guy. I am proud to be an Eagles fan because we haven't had a leader like this kid. He's it."
It's not just Hurts' athletic ability or leadership skills that have the internet so thirsty, though. On Twitter and TikTok, fans are pretty open about gushing over the quarterback — even when he's just chewing gum on the sidelines. Here are some of their best takes on the Eagles player.
Some of Hurts' younger fans were also feeling the pang of unrequited love.
Even the NFL got in on the crushing videos. Enjoy:
Twitter also had fun talking about thirsting over Hurts.
Before you start crushing too hard, Hurts is taken. The quarterback went public with his girlfriend Bry Burrows after his NFC Championship win on Jan. 29. The duo actually dated back in college, too. They both attended the University of Alabama, although Hurts eventually transferred to the University of Oklahoma. Per People, Burrows lives in Dallas, Texas. (Hurts is from Houston.)
If you're ready to see more of Hurts, there's one (pretty big) game left to watch. The Philadelphia Eagles will play against the Kansas City Chiefs in Super Bowl LVII on Feb. 12.