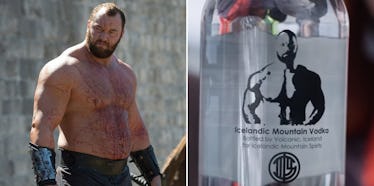 The Mountain's Amazing New Alcohol Is Basically A "Game Of Thrones" Vodka
HBO/YouTube
Hafþór Júlíus Björnsson, aka The Mountain aka Ser Gregor Clegane from "Game of Thrones," apparently owns a vodka distillery because I just saw his new ad for it and it's hilarious.
His new vodka might as well be called "Game of Thrones" vodka because everything about it basically references HBO's smash-hit show.
First, the vodka is called Icelandic Mountain Vodka because, ya know, it's made with "the purest Icelandic water" from the mountains in Iceland, the "land of fire and ice." (Does that last bit sound familiar?)
The vodka is the first of a few products to come, including a rum, a gin and some kind of alcohol good for shots. According to the Icelandic Mountain Distillery website, the products come from Icelandic legends, including the giant, which is represented by The Mountain on the vodka! (Maybe, on second thought, it's the show that is actually representing old Icelandic myths? Nah.)
The website says,
The Icelandic Mountain Vodka is the first out of 4 products that we have tied together. The products are based on the old Icelandic legends of the guardians or the Icelandic Spirits. The giant (Mountainvodka), The dragon (coming soon), the eagle and the bull. Legends say that these mythological creatures are the guardians that protect Iceland from its enemies. We are making a line of bottles and each bottle will represent one of the guardians. On the backside of the Icelandic coin (tíkall) you will see an image of the guardians.
Product information aside, Björnsson is just hilarious in this commercial. He matter of factly points out he is on the vodka, so you know it's his, before he basically goes full Mountain on somebody who doesn't love the vodka. Let's just say it reminds me of how much I miss Oberyn Martell on "Game of Thrones."
See for yourself how funny the commercial is. You'll get a kick out of it, I'm sure. Check out the ad at the top, and if that's not enough of The Mountain for you, check out the full-length commercial below or read up on his diet or adorable workout habits.