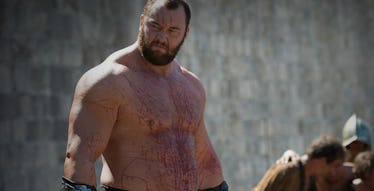 The Mountain From 'Game Of Thrones' Just Revealed His Diet And It's Insane
HBO
When Hafþór Júlíus Björnsson isn't in strongman training, or playing the role of The Mountain in "Game Of Thrones," he's eating an insane diet that would make The Rock raise an eyebrow.
The average human being probably shouldn't try this, but Hafþór is a solid 6'8" and 419-pound man who requires some serious nutritional value to operate at a high level.
He went on his Instagram to tell his fans how he's been preparing diet-wise for the World's Strongest Man 2016 competition, and as you would expect, it's OD! He says,
People been asking me a lot about my diet and what I eat! Here's my diet plan for my preparation for World's Strongest Man 2016! Yes this is a lot & I don't recommend YOU to try this!
Hafþór went on to share his entire daily routine, which Mashable kindly translated for us all. Check it out:
6:50 Morning workout! Cardio + CORE for 30min Bcca, Glutamine + handful of almonds
7:30 8 eggs + [7 ounces or .44 pounds] Oats + blueberries & strawberries + avocado
9:30 [14 ounces or .88 pounds] Beef, [14 ounces or .88 pounds] Sweet potatoes, handful of spinach & greens
11:50 Bcca, glutamine
12:00 [14 ounces or .88 pounds] Chicken + [14 ounces or .88 pounds] potatoes, greens + some fruits
14:00 Blender = [5.3 ounces or .33 pounds or 2/3 cups] oats or sweet potatoes, 2 bananas [5.3 ounces or .33 pounds or 2/3 cups] kelloggs rice krispies, frozen berries, handful almonds, peanut butter and glutamine
14:30 Training strongman, Bcca, glutamine, Vitargo
17:30 [2.1 ounces or .13 pounds or 1/2 cup] protein + 2 bananas
18:00 [17.6 ounces or 1.1 pounds] beef + potatoes, greens
20:30 [17.6 ounces or 1.1 pounds] salmon + [17.6 ounces or 1.1 pounds] sweet potatoes
22:30 [1.7 ounces or .1 pounds or 1/4 cup] casein protein or 6 eggs + avocado + [1 ounce or 1/3 cup] almonds + [1.7 ounces or .1 pounds or 1/4 cup] peanut butter