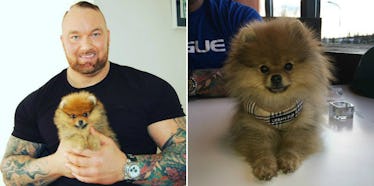 The Mountain From 'Game Of Thrones' Works Out With The Tiniest Puppy Ever
We haven't really heard much from Gregor Clegane, aka The Mountain, in season six of "Game of Thrones," which probably should have been expected considering he currently looks like something created by Dr. Frankenstein, but that hasn't stopped actor Hafþór Júlíus Björnsson from making the celebrity rounds.
You already know what Björnsson eats in order to maintain the most intimidating physique in Westeros, but did you know he has an adorable little workout buddy?
The Mountain works out with the tiniest puppy ever, a 14-week-old Pomeranian named Asterix.
And while Björnsson's Instagram has a few shots of the actor with his pup...
...you really want to check out Asterix's Instagram profile for the best shots of the Pomeranian puppy.
The Pomeranian known as Asterix may belong to The Mountain, but he's a pretty popular celebrity in his own right.
Like, have you seen a cuter dog in a shower cap getting ready for a bath?
Normally, you'd be upset to come home and see your dog make a mess, but not if your dog is Asterix.
Asterix knows how we all feel at work once 2:30 pm on a Wednesday rolls around.
And this little Pomeranian knows how to have a good time at the mall, too.
Is there anything Asterix can't do?
I really don't think so.
Like owner like dog, right?
The Mountain is probably the strongest character in the Seven Kingdoms, but Asterix is definitely the cutest.
Citations: Here's The Mountain working out with his tiny Pomeranian (AV Club)