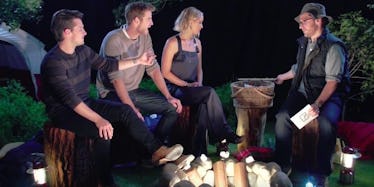 'Hunger Games' Cast Gets Real During Hilarious Game Of 'Truth Or Dare' (Video)
The stars of "The Hunger Games: Mockingjay, Part 2" came together after hours at MTV's "Camp Mockingjay" to play the most epic game of Truth or Dare.
In the video, Josh Hutcherson, Liam Hemsworth and Jennifer Lawrence gather around the campfire to answer a series of questions and take on one interesting challenge.
Jennifer starts the conversation by sharing how she protects herself from predators by dressing "fabulous." Oh, Jennifer, you always know how to stay safe. We then get to hear ghost stories, find out the cast members' disgusting habits and discover the "truth" to a question posed to Jennifer by her BFF Amy Schumer.
We also get to watch Jennifer shove about a million marshmallows into her mouth. So yes, it's a pretty hilarious clip.
Be sure to check it out in the video above!
Citations: Watch Jennifer Lawrence Shove More Marshmallows Into Her Mouth Than You Thought Humanly Possible (MTV News)