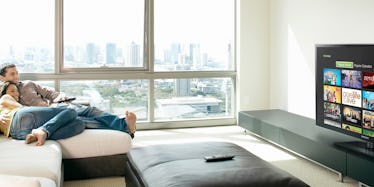 Hulu Will Offer Live TV Now, So You Might Want To Cut That Cable Subscription
Hulu
Hulu is making a big move.
The streaming service is no longer trying to only compete against Netflix for your attention. Nope, Hulu is now taking a step up into the live TV market.
Now, that's not exactly breaking news. As The Verge's Chris Welch points out, the Santa Monica-based company has been announcing several deals, with TV networks like ESPN, over the past couple of months.
But at this weekend's Consumer Electronics Show in Las Vegas -- aka the Fashion Week of the tech world -- Hulu unveiled what its live offering will look like.
The answer? Lit.
Here are some of the cool features you need to know, according to Welch's handy guide.
When you first go into the app, Hulu will prompt you to choose your favorite genres, shows and networks so it can suggest content for you.
After that, you'll be able to see a menu that Hulu is calling your lineup, which will seemingly be based off your preferences and watching habits.
Past the lineup is the general Hulu experience, which shows the different batches of content the service has.
There's even going to be a section that shows all the content that will be leaving from Hulu soon, instead of logging in one random day and noticing that season one of "Lost" is completely gone (sorry, too personal).
One small detail might serve as a con, though, which Mashable's Pete Pachal mentions. Hulu will be mixing together all of its content -- live content and on-demand stuff -- which has gotten messy for other companies when they've tried something similar.
So there may be a risk of losing what made the service so great as an on-demand-only platform.
Anyway, the bottom line is Hulu will now feature live sports and news programs, and the company's offering the internet tv service at under $40 per month.
That's a price that's surely meant to test your commitment to that $100-plus cable subscription. And Hulu's able to do all of this because, as mentioned above, it's made deals with practically all the big networks (not all, but you know what I mean).
In a statement earlier this week, Hulu CEO Mike Hopkins said,
To build a successful live TV service, you have to have viewers' favorite sports and shows — and CBS' programming is absolutely vital to that mix With 21st Century Fox, Disney, Turner and now CBS on board, our new live service will offer one of the most valuable sports, news and entertainment lineups anywhere — from ESPN, Fox Sports, CBS Sports and TNT to ABC, CBS, FOX and The Disney Channel.
No exact timetable is laid out for when Hulu's new service will debut, but it's said to be coming in the next few months.
Citations: The Verge