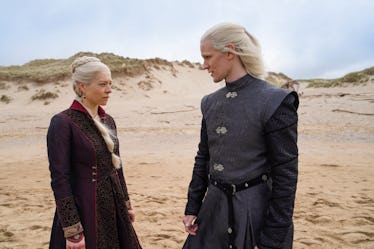 The New House Of The Dragon Teaser Has Early-Seasons GOT Vibes
HBO
The end of HBO's Game of Thrones was never going to be the end of the story. The series' wild popularity more or less ensured there would be a spinoff no matter how controversially the show ended. HBO execs took care in testing different ideas, with five scripts solicited and an entire pilot made and scrapped before deciding on which direction to go. Now, the resulting series, House Of The Dragon, has begun filming. Even better, HBO has already released details and images from the new show.
From the beginning, George R.R. Martin, the author of the book series that inspired these HBO shows, insisted any spinoff would not be a sequel to GOT. It had to come from earlier in history, though exactly where to set a prequel was not an easy decision. In his books, Martin has backfilled tons of history and world-building for Westeros, with details that stretched as far back as 10,000 years before the current day, in the "Age of Heroes."
The initial show put to pilot focused on that very-far-back period, but when it was spiked in favor of House of the Dragon, it was not clear where the new show would focus. The title pointed to the 300-year reign of the Targaryen dragon lords, but a lot happened during that period too.
Here's what's known so far:
This article was originally published on