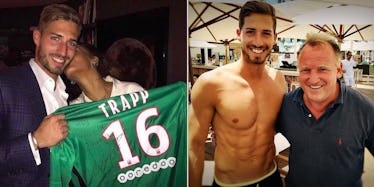 This Sexy Soccer Player Rihanna Kissed Is Winning On And Off The Field (Photos)
Anyone who cares even the tiniest bit about Rihanna knows she is a Kevin Trapp superfan.
Today, the self-dubbed "Trapp Queen" posted a photo to Instagram of the Paris Saint-Germain goalkeeper gifting her a signed jersey.
In case you didn't take a moment to low-key stalk the scrumptious German athlete, I did the legwork for you.
He's not afraid to take a hit.
He's literate.
He cleans up quite nicely.
He's a man of the people.
He knows New York is the greatest, most profane city in the world.
He's proud to indulge his basic side.
Seriously, though.
He…
Shut up, it's no big deal. Thank me later.