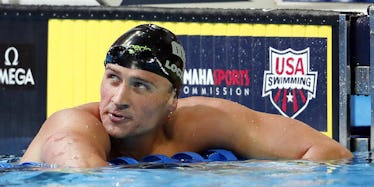 This Super Hot Playboy Model Is Ryan Lochte's Rumored Olympics Hookup
REUTERS
Let's move to Rio de Janeiro -- everyone seems to be falling in love over there.
First, we all hear about US gymnast Simone Bile and her new Brazilian bae Arthur Nory, and now Ryan Lochte looks like he's fallen in love with a Playboy model.
Guys, this is big news. We've only just been talking about his Tinder profile. Yeah, it turns out he might not be needing that account anymore!
Kayla Rae Reid, 25, may have taken the Olympic swimmer off the market when he posted a Snapchat of her spending time with him and his parents in Brazil.
Mom and dad -- You know what that means. Things must be serious.
Here's the happy scene you can no longer be a part of.
BUT WAIT, WHAT'S THIS?!
It looks like Ryan and Kayla's relationship spans longer than first thought.
There's no sign of Kayla on Ryan's Instagram, but there's quite a different story when you go to the bunny's account.
Only five days ago, she posted this image of the couple to celebrate Ryan's birthday. Did she just dig this up from the archives or is this a recent snap? WE MUST KNOW.
Now, go back five weeks...
Then eight weeks...
...and then 11 weeks.
NO. FREAKIN'. WAY. Fifteen weeks!
This picture YODELS "love."
Come on, guys, what's the real deal here?
[olympics]
Citations: Love in Rio? Ryan Lochte Snuggles Up with Playboy Playmate at the Olympic Games (PEOPLE)