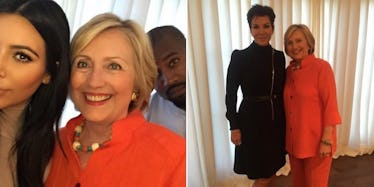 Hillary Clinton Took A Selfie With The Queen Of Selfies, Kim Kardashian
When you're on the road to the presidency, you have to shake a few hands, kiss a few babies and pose for a few selfies with Kim Kardashian West.
It's basic politics.
Kanye West, Kim and her mother, Kris Jenner, attended Hillary Clinton's fundraiser in Los Angeles this Thursday.
En route to the event, Kim tweeted a photo of herself with a caption referring to Clinton as "our next President," whom she hoped to take some selfies with.
Kim got her wish -- as did Kanye.
Kris Jenner also got a chance to pose with Clinton, and she posted the photo to her Instagram with #ohjustchatting.
The fundraiser was hosted at the home of Scott "Scooter" Braun, the man famous for managing singer Justin Bieber and infamous doughnut licker Ariana Grande.
Now, Clinton can take solace in the fact that she locked down the Kardashian West vote.
Citations: Kim Kardashian Met With 'Our Next President' Hillary Clinton During GOP Debate (TIME)