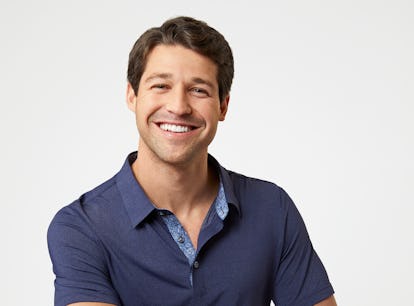 A Bachelorette Villain Showed Up On BIP & Twitter Is NOT Here For It
Rambo has entered the chat.
(ABC/Ricky Middlesworth)
Umm, who invited the Bachelorette Season 19 meanie to Mexico? During a Nov. 1 episode of Bachelor In Paradise, Hayden Markowitz confidently strolled up to the Playa Escondida Resort to mixed reviews by both his co-stars and viewers at home. And the memes about Hayden's arrival on Bachelor In Paradise are truly hilarious.
Johnny DePhillipo gave his BIP costars the lowdown on the infamous golden retriever owner: "He wasn't a good dude and no one talked super highly of him." And, well, that does kind of sum up his time on The Bachelorette. ICYMI, Hayden decided Gabby Windey was too "rough around the edges" for him during the last season of The Bachelorette. He also called both her and Rachel Recchia "b*tches" who "don't hold a candle to [his] ex," so, his reputation was not exactly superb as he started pulling women to talk to.
Right off the bat, Hayden pulled Shanae Ankney aside for a chat. "What are your values?" the Bachelor alum asked him. His all-too-predictable, but still epic response? "I have a golden retriever." (I'm cringing.) Ankney remarked that she found it "weird" how "obsessed" Hayden was with Rambo. I love pups as much as the next person, but it's kind of giving Pizza Pete... just with dogs.
The Bachelorette alum then admitted that it would be "very hard-pressed" for a woman to "outbeat Rambo" but at the end of the day, he still "want[s] a wife."
Fans online seem to doubt he'll find success on that front, at least not with his current showing on Paradise.
Here's hoping Hayden finds the human love of his life in paradise... but if not, he'll probably be equally thrilled to go home to Rambo.
Bachelor In Paradise continues Monday and Tuesday nights at 8 p.m. ET on ABC.