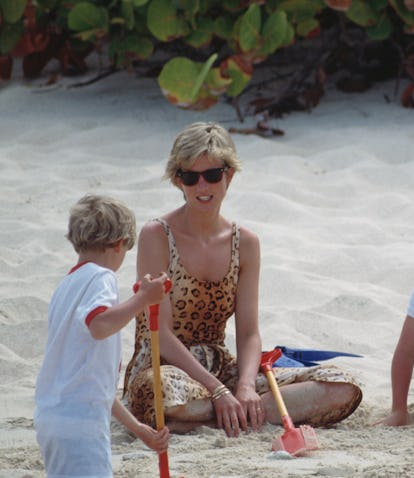 These Eerie Moments From Harry & Meghan Were Recreated In The Crown
Tim Graham/Tim Graham Photo Library/Getty Images
The Harry & Meghan docuseries was never not going to be controversial. The animosity between the royal couple and the U.K. press guaranteed it would be lambasted, no matter what was in it. However, Netflix reportedly tried to keep the furor down by pushing the release date from November to December so that its arrival would be separate from Season 5 of The Crown. Considering how many real-life moments Harry & Meghan shows that The Crown recreated over the years, it's easy to understand why.
Warning: Spoilers for Harry & Meghan and The Crown Season 5 follow. Any history of Harry's life would almost certainly include some overlap with The Crown. After all, Netflix's six-season series dramatizes his grandmother Queen Elizabeth II's life, from her early 20s to her late 70s. As Charles and Diana's younger son, the fictionalized version of Harry has had very little screen time. However, his older brother, Will, was featured in several scenes, played by teen actor Senan West in Season 5.
The Crown's heavy focus on Will and Harry's parents, Charles and Diana, meant any historical footage had better-than-even odds it might be in Season 5, still months from release when the docuseries was completed. But even so, seeing the real scenes only weeks after watching The Crown's dramatization is super eerie.
Harry & Meghan and The Crown are both streaming on Netflix.
This article was originally published on