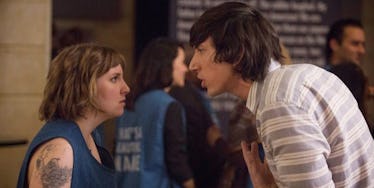 These New Photos Might Reveal A Huge Clue About The Final Season Of 'Girls'
HBO
Warning: major spoilers ahead.
The fifth season of "Girls" ended in dramatic fashion -- Hannah finally came into her own after her breakup with her super hot boyfriend, Fran, and Adam was still with Jessa.
It left those of us who've been fans of Lena Dunham's hit show since the beginning in a weird place. There were so many emotions, and we weren't quite sure what to expect from the sixth and final season of "Girls."
Luckily (or unluckily if you're not a fan of spoilers), someone snapped these photos of Adam Driver and Lena Dunham shooting the final season in New York City.
From what we can tell, it looks like their characters, Hannah and Adam, are back together and closer than ever.
They're making out, holding hands and snuggling in a very public place. In one photo, Adam even has his hand on Hannah's stomach... Does this mean she's pregnant? Or is this just another one of their quirky behaviors?
And this series of photos leads to even more questions. Will Hannah and Jessa's friendship survive this? Is the beautiful Jake Lacy, aka Fran, gone forever?
The sixth season will air in early 2017, so we have a long time before we finally get answers.
Citations: Does This Photo Give Away A Big Spoiler For Girls Season 6? (Refinery29)