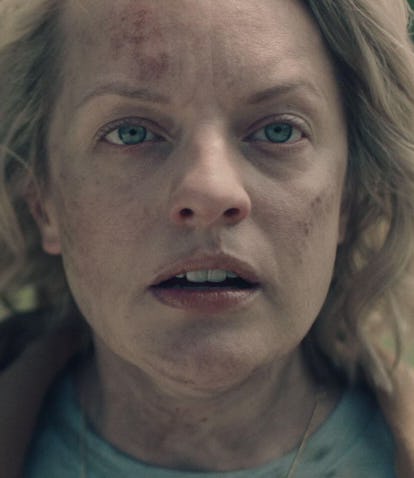 7 The Handmaid's Tale Theories To Ponder After Season 5's Finale
Hulu
When The Handmaid's Tale was initially announced on Hulu, most assumed the streaming series would only go one season, as the book it's based on is not very long. Five seasons later, the story has gone further than anyone could have imagined. Now, with one season left to wrap up the show (and a sequel in the works), these Handmaid's Tale Season 6 theories hint at just how much more there is to explore.
Warning: Spoilers for The Handmaid's Tale Season 5 finale follow. Viewers assumed if June left Canada, it would be to return to Gilead for Hannah. Her fleeing to America with Nichole, on the same train Serena Joy and her new baby are also on, was a twist almost as shocking as Janine being taken by the Eyes at the word of Commander Lawrence. But for those who have read author Margaret Atwood's follow-up novel, The Testaments, these reveals make sense.
After The Handmaid's Tale's success on Hulu, Atwood was inspired to write The Testaments, which provides a blueprint for where these characters are headed onscreen: Since The Handmaid's Tale showrunner, Bruce Miller, is adapting The Testaments for Hulu as a sequel, it seems like he's setting the characters up for their fates on the page.
The Testaments does not directly reveal the fates of June, Serena, or Janine. However, rumors suggest June never made it to America. That leaves Season 6 open for speculation, and the theories about what could happen are all over the place.
The Handmaid's Tale Seasons 1 through 5 are streaming on Hulu. Season 6 is expected in 2023.