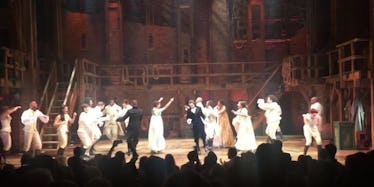 The 'Hamilton' Cast's Tribute To Prince Will Give You All The Feels
YouTube
To the kind soul who snuck a video of "Hamilton" cast's tribute to Prince at last night's performance: You're the real hero.
While tickets to the hit Broadway show remain out of reach for most of us, a clip of the cast memorializing the late artist is up online for the world to see.
In it, the "Hamilton" playwright/composer/lyricist/star, Lin-Manuel Miranda, can be heard reading a verse from Prince's "Let's Go Crazy."
He recited,
So when you call up that shrink in Beverly Hills You know the one, Dr. Everything'll Be Alright Instead of asking him how much of your time is left, baby Ask him how much of your mind 'Cause in this life Things are much harder than in the after world In this life You're on your own
With a final, "Rest in peace, Prince," Miranda joined the cast behind him in a celebratory dance while the band played the song's chorus.
This whole thing makes me want to watch a live, staged version of "Purple Rain," but I'll keep my expectations in check and be thankful for this clip in the meantime.