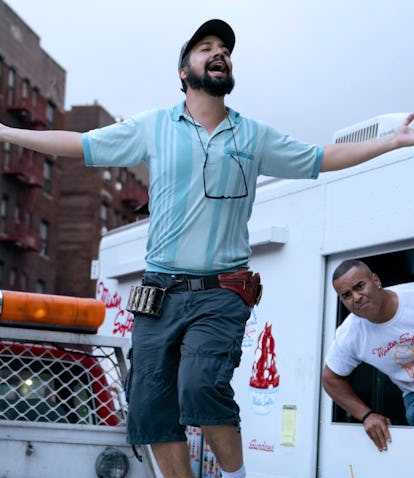 In The Heights Is Full Of Hamilton Easter Eggs And Other Sly References
Yes, that was a Hamilton song you heard.
Macall Polay
Thirteen years and four Tony Awards later, an In the Heights movie has officially hit theaters. Hamilton creator Lin-Manuel Miranda's first big Broadway show tells the story of a predominantly Latinx community in Manhattan's Washington Heights neighborhood, and the musical's big heart and show-stopping musical numbers make it a must-see. To make your viewing experience even better, let's break down some of the Hamilton easter eggs and sly references in In the Heights.
Based on Miranda's 2008 Broadway hit, the movie follows Usnavi (played here by Anthony Ramos), who immigrated from the Dominican Republic as a child and is torn between living in Washington Heights and heading back to his birth country to repair his father's business. All around him, his lifelong friends and neighbors are also dealing with big changes wrought by rapid gentrification, xenophobic immigration policies, and navigating their ties to both America and their home countries. But through an explosion of music and heartfelt storytelling, In the Heights paints a lively, powerful portrait of Latinx community.
Of course, Miranda is well-known for his smash-hit musical Hamilton, and the movie pays homage to both of Miranda's shows. From a Drag Race cameo to a "96,000" lyric change, here are all of the biggest In the Heights easter eggs: