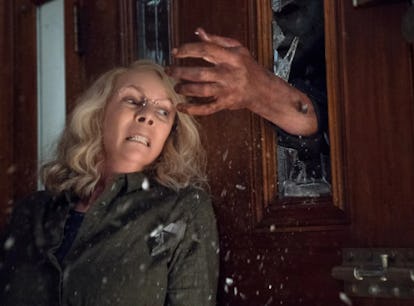 15 Halloween Movies Streaming On Peacock To Watch This Season
Ryan Green/Universal
NBC's Peacock may not be the most familiar streaming service to the general public — after all, it's only been around for just over a year. Still, the platform has amassed a solid media library, including an impressive lineup of scary films that'll be sure to send goosebumps down your arms. So, which are the best Halloween movies streaming on Peacock? Horror fans, look no further.
While Peacock is also offering original content this Halloween — like the highly anticipated cooking show, Snoop and Martha's Very Tasty Halloween — the streaming service recently added a bunch of well-known films just in time for the holiday. So, for those looking to have a spooky marathon, Peacock is the streamer for you. The platform has multiple films in the Saw, Nightmare on Elm Street, Friday the 13, and The Texas Chainsaw Massacre franchises, if you want to keep watching all night long.
And if franchises aren't your thing, no worries. From recent thrillers to cult classics, there is a plethora of creepy and mysterious content on the streaming service to enjoy this "Peacocktober." Whatever your scary movie preference is — be it serial killers, demons, or psychological thrillers — Peacock is sure to have it. So, light your pumpkin candles and get ready to be spooked.