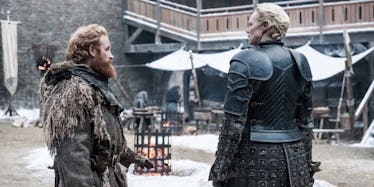 'GOT' Star Gwendoline Christie Shuts Down All Brienne And Tormund Love Theories
HBO
Fan favorite Brienne of Tarth, played by Gwendoline Christie, stormed into Game of Thrones in Season 2 as part of Renly Baratheon's entourage. Since then, she has turned out to be one of the few pure-hearted characters in Westeros, and even more incredibly, one of the few to survive to the end-game stage.
Last year, fans went wild when it looked like Brienne might have even found love, and not with Jaime Lannister. (File that under "It's Complicated.") Upon her arrival at Castle Black, Tormund Giantsbane took one look at the woman who once fought a bear and decided that was everything he could ever want.
But that was all improvised by the actors. The show never intended to put Brienne and Tormund together. For fans still holding out hope, Christie throws the kibosh on such a thing. When asked if Brienne would go for it, Christie turns the question back on the reviewer: "Do you think she actually likes him?"
Considering Brienne's expressions at Tormund's leers?
Yeah, sorry y'all. That's a no. "Well, there you go!" says Christie.
Despite breaking our hearts that a love match is not in the cards for Giantsbane and The Maid of Tarth, Christie does give us a few hints about a new relationship this coming season.
I have to speak generally. Game of Thrones is famous for different characters coming together with unlikely consequences. And what's recurrent in Brienne's life is forming relationships with people that start with an opposing force, then a begrudging mutual respect and, out of that, a deep respect and pure love. That happens again this season. Brienne will realize a deep alliance.
So tantalizing, without giving anything away. (Working on both Game of Thrones and Star Wars at the same time has taught her well.) Who might we see Brienne working against as an opposing force? The first person I thought of was Davo, as he was on the pro-Stannis side, while Brienne is the one who put a sword through the wannabe king's heart.
But here's another, even better answer: What if it was Arya, when she arrives at Winterfell this season?
Arya is "the one that got away" from Brienne back at the end of Season 4, while Brienne battled the Hound to his death. Arya has a deep distrust of most things King's Landing and Lannister positive, while Brienne carries Jaime's sword. If Littlefinger is working to keep Sansa, who Brienne is sworn to, and Arya at odds, it's easy to imagine they would start off as opposing forces.
Brienne and Arya realizing a deep alliance though, and heading out to take on the world? Move over, Tormund. Now that's the stuff real fanfic is made of.
Game of Thrones Season 7 arrives this Sunday, July 16, at 9 p.m. ET.