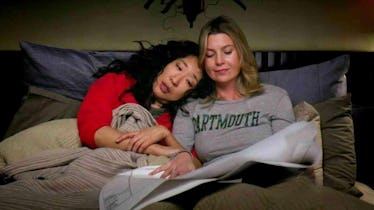 11 Grey's Anatomy Thanksgiving Episode Quotes For Instagrams Of You And Your Person
There are plenty of moments to pull from.
ABC
Even if you plan on spending the majority of Thanksgiving weekend in sweats, slapping on a smile for an Instagram photo to share how thankful you are kind of comes with the holiday's territory. If you're at a loss for a caption to accompany your pic, look no further: These Grey's Anatomy Thanksgiving episode quotes are perfect for Instagrams on Turkey Day, whether you're going for something heartfelt and sincere, or something just plain funny.
With 17 completed seasons under its belt — and an 18th just starting off — Grey's Anatomy was bound to have a few Thanksgiving episodes over its 16-year (and counting) run. While the holiday isn't a yearly tradition for the show (like it was for, say, Friends), it still has some iconic moments to honor the day. If you're in the mood to rewatch those episodes, they are:
Season 2, Episode 9: "Thanks for the Memories" (2005)
Season 6, Episode 10: "Holidaze" (2009)
Season 10, Episode 10: "Somebody That I Used to Know" (2013)
Season 11, Episode 22: "She's Leaving Home" (2015)
All told, "Thanks for the Memories" is the most "Thanksgiving-y" of the Thanksgiving episodes, but the other three are definitely still worth watching this time of year. If you want to squeeze in a whole year's worth of holidays along with Thanksgiving, then "She's Leaving Home" is the one to watch, since it chronicles an entire year of the Grey's characters' lives, complete with every holiday celebration. Of course, that episode also shows the immediate aftermath of Derek's death, so watch with a box of tissues at hand, for sure.
The truth is, any given episode of Grey's Anatomy is bound to bring up a ton of emotions — that's just how it goes at Grey Sloan Memorial. So, if you're looking for an emotional holiday, this is definitely the show to watch.
However, if you're short on time and can't do a series rewatch, but want to just get straight to the best Thanksgiving quotes from each Grey's Anatomy episode, look no further:
You can stream Grey's Anatomy on Netflix and watch the latest episodes on Thursdays at 9 p.m. ET on ABC.
This article was originally published on