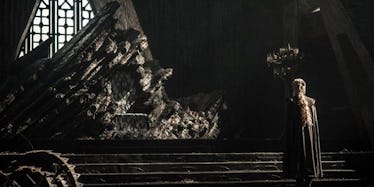 'GOT' Season 7 Premiere Photos Were Just Released, So Let The Theorizing Begin
HBO
There are only four more days to go before Game of Thrones finally returns to the airwaves. And if it's Wednesday, that means it must be time for HBO to deliver a new batch of photographs, teasing this week's upcoming episode.
Reminder: This first episode is entitled "Dragonstone." The synopsis is as follows:
Jon (Kit Harington) organizes the defense of the North. Cersei (Lena Headey) tries to even the odds. Daenerys (Emilia Clarke) comes home.
This week's batch has eight photos, a few of which we've seen before. Let's dive in and guess what they might mean for this Sunday's episode.
Up At The Wall
When we last left Meera and Bran, Half-dead Benjen Stark had just left them off outside Castle Black, at the weirwood tree where Jon Snow once took his oath so long ago. Obviously, Castle Black wasn't expecting visitors, so they sent the Lord Commander to decide if they should let them in.
Meera Looks So Done With All This
Since Meera is dressed like a wildling, my guess is Edd would assume that's what they are. How are they going to explain themselves? Oh wait, Bran can just drop Jon Snow's name, can't he?
By the way, we know Bran received a total download of Westerosi happenings when the Three-Eyed Raven died. Does he know Jon Snow died and came back to life? Does he know Jon Snow is back in Winterfell?
Speaking of Winterfell!
Are they sparring or has Brienne finally decided to knock some common sense into her little buddy, Podrick? Note his leathers are torn on the same side she's holding the sword. And Brienne does *not* look happy.
Lyanna Mormont Doing What She Does Best
When Daenerys establishes democracy in Westeros, this child better run for office. Meanwhile, I would assume that whatever unpopular plan Jon has cooked up requires a salesperson to convince the rest of the Northern lords to back it, and Lyanna is doing her thing.
Speaking of Daenerys!
We've actually seen both of these photos from Dragonstone. We know Dany is having an emotional homecoming this week.
Both Inside The Castle And Out
I'm curious what secrets she'll find buried in the castle. (More dragon eggs?) I'm also curious how Drogon and his brothers feel about it. (I assume that's who they are looking at?)
Speaking Of Siblings!
(OK, that one was a stretch, I admit it.)
Cersei is still wearing that amazeballs leather overlay gown from the coronation. Her hair has also grown out into a Beatles-esque mop top. So trendy.
We assume she's plotting to wage war. But against whom? Does she know Dany's home yet?
OMG, This Map
No, seriously, that sound you heard was book readers having a collective "squee" over this map of Westeros. The map is straight out of the books and appears in full color, painted on the floor of the Red Keep. To hell with Cersei's campaign, that's a gorgeous Easter Egg.
(I don't know about the rest of you, but Imma need that to be part of the Game of Thrones: The Exhibition tour when it opens up this fall.)
Game of Thrones Season 7 Episode 1 "Dragonstone" airs at 9 p.m. ET this coming Sunday, July 16, on HBO.