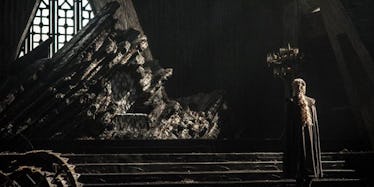 A 'Game Of Thrones' Exhibition Tour Is Coming And We Can't Wait To Go To Westeros
HBO
In just over a week, Game of Thrones Season 7 will arrive on our televisions. And then, like a summer in Westeros, it will suddenly be gone.
Seven short weeks is all we get, with the last six episodes at least a full year's wait away in 2018. That is unless HBO decides to hold it until 2019. The wait for fans will be almost as terrible as sitting through Dorne.
What to do with the longest night of waiting in Game of Thrones history? HBO seems to have realized fans will need something to occupy them. This past spring, they filled the empty space with the Game of Thrones Concert Tour. Now the channel announced its first ever partnership with GES (Global Experience Specialists), to bring us the Game of Thrones: Exhibition Tour.
This is not the first time we've seen a Game of Thrones exhibition. HBO ran their own in-house produced tour from 2013-2015, but it was far more limited in scope, each year only hitting five cities.
For an idea what it was like, check out this video:
The brand new version of the tour, which will travel worldwide, features "a 10,000-square-foot interactive experience with multimedia content includes a look into the mythical lands of Westeros and Essos."
According to the press release:
The 'Game of Thrones' exhibit will include themed settings including the wintry landscapes of the North, the tree-lined pathway of the King's Road, and the regal settings of King's Landing. The centerpiece will be the Iron Throne room.
Here's a rendering of what the centerpiece will entail:
The tour will kick off this fall, after Season 7 has ended, in Europe. Dates and locations are to be "announced soon." Here's to hoping tour dates in the United States follow post haste.
Game of Thrones Season 7 returns July 16, 2017, on HBO and HBO Now.