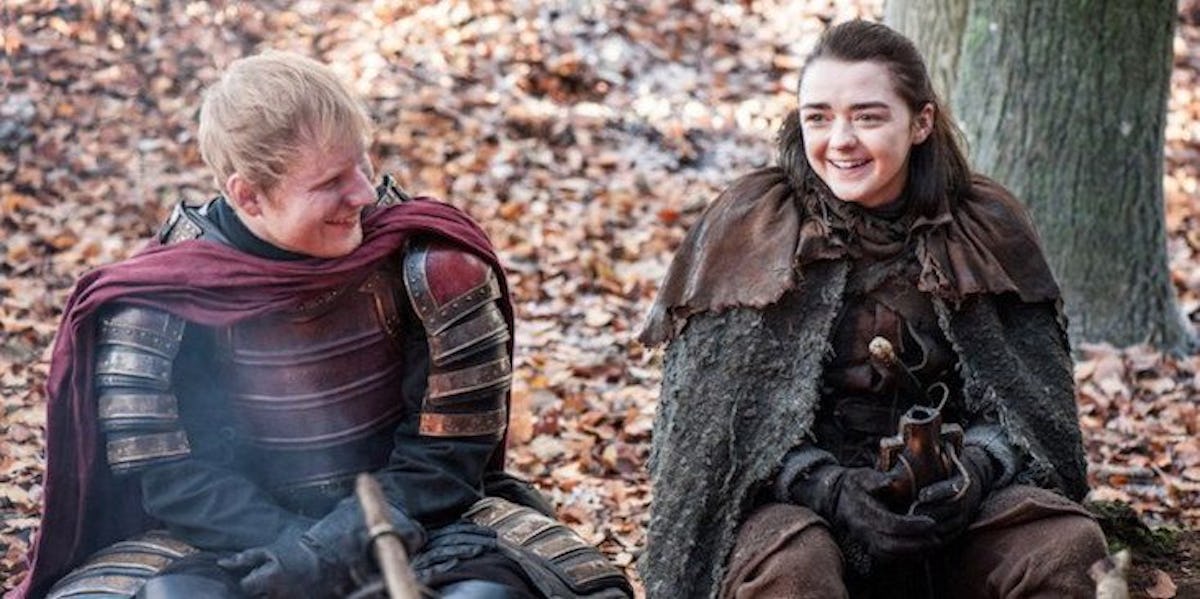 'GOT' Director Defends Ed Sheeran Cameo: "He Looks Like He Belongs In That World"
HBO
Sunday's big Season 7 premiere of Game of Thrones was welcomed with praise and excitement for the most part, but there was one scene that a number of fans complained about online.
Ed Sheeran popped up midway through the premiere in a brief cameo, singing a short bardic song and exchanging pleasantries with Arya Stark. Though he was barely on the show and didn't impact the plot, Twitter quickly erupted in anger over Sheeran's appearance on the high fantasy series.
The Twitter hate went so far Sheeran even deleted his Twitter account the day after his episode aired. He has since reactivated it.
Most of the negative responses criticized Sheeran's cameo as being a distraction from the fantasy element of the series since he's obviously such a famous, ubiquitous face in real life. Now, the episode's director Jeremy Podeswa is defending the show's decision to cast Sheeran in the bit part.
Podeswa told Newsweek that although there's negativity surrounding the part outside the world of the show, within the world of the show, he thinks Sheeran did a fantastic job and really looked the part of a young Lannister soldier.
I think Ed did a lovely job — he's a lovely actor and a lovely person. He was appropriate for the part because he needed to sing. If people didn't know who Ed was, they wouldn't have thought about it twice. The hoo-ha seems to be from things that are outside of the world of the show. In the world of the show he did a lovely job, and he looks like he belongs in that world.
Unfortunately, no matter how much Podeswa thinks Sheeran looks like he belongs in Westeros, it doesn't seem likely the singer will return after the backlash to his cameo. Oh well, I guess that hugely successful singing career thing he's got going is pretty good, too.