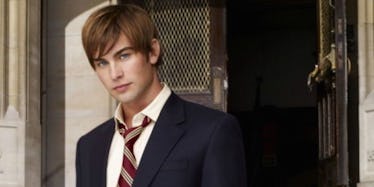 Here's What Nate Archibald From 'Gossip Girl' Looks Like Today
Warner Bros.
Growing up watching "Gossip Girl" on the reg, there wasn't a week that went by when my teenybopper self wouldn't have Nate Archibald's complete and utter sexiness on my mind.
I think most of us girls can all relate to that though, am I right?!
Preppy lax bro Nathaniel Fitzwilliam Archibald totally won over all of our "Gossip Girl"-obsessed hearts.
With just one look into those mysteriously ~handsome~ eyes, we were all screwed (in a good way) because he had us hooked through the TV screen. It would simply be a moot point to argue otherwise.
Basically, Nate was our TV boyfriend. He was always there for us tweens to come home to after dealing with mad girl drama at school.
His being such a cool dude and a supportive, swag friend to his Upper East Side squad made everything so much better.
There was something about Nate's hotness that made us take a break from reality for a bit, and that was more than OK.
For real, I have literally no complaints…
Although I did find myself a tad conflicted in the latter part of the show, I ended up falling for his bestie Chuck Bass, too. #SorryNotSorry.
BUT, to argue my point, I do think it's v. appropriate we love both of our main "GG" boys equally, right?!
UM, IT'S GETTING REAL HOT UP IN HERE.
Since his days of winning over all of us on "Gossip Girl," Nate Archibald (AKA actor Chase Crawford) has changed.
Here's what he looks like today.
PSA: He's not rocking his iconic St. Jude's uniform anymore, but he's still hot AF (just in case you were wondering).
He'll always be a golden boy in my book. Here he is posing with his adorable nephew, Hawk.
It's clear that Nate's a super rad uncle. This photo is too sweet to handle.
And he's still chilling with TV best friend Chuck Bass. This photo gives me SO MUCH NOSTALGIA.
Our boy Nate lets the jokes fly on his Instagram, too.
He captioned this photo,
@willmalnati and I recorded a show for his new podcast #TheDropIn while yachting in Tahiti... Or maybe just on a boat in lake Austin. Listen to the ep by following link in the @atwillradio bio
Can we have a "Gossip Girl" reunion soon?! LIKE RIGHT NOW, PLEASE.