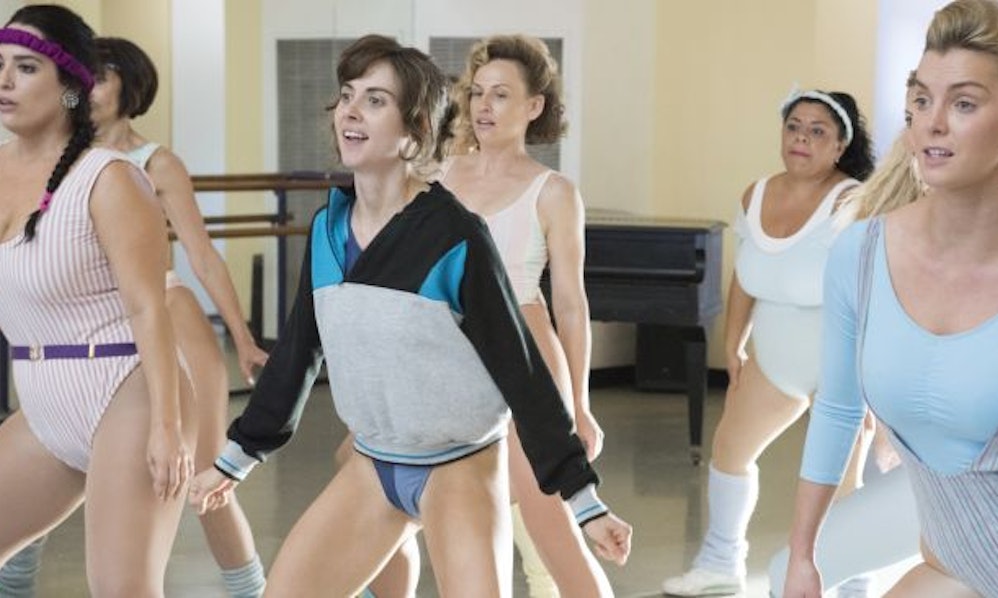 Netflix
What's The Song In 'GLOW' Season 1 Episode 1?
Netflix's latest offering takes us back to the 1980s with GLOW, a fictionalized drama of the making of the show of the same name in 1985.
The show is a cavalcade of 1980s cliches, from the clothing (and the shoes) to the hair to the cars to the drugs to the golden age of wrestling on television -- but nowhere are the 1980s more prevalent than the soundtrack.
From the opening credit sequence featuring Patty Smith's solo hit "The Warrior" to the strains of David Bowie and Queen, the show fills the episodes with the music of the time period.
Some of the songs are highly recognizable or will be familiar from other movies. But some are total relics of the age. For those who were too young to listen to the radio in the 1980s, or weren't born yet, even the more recognizable songs might not be as familiar; some don't come up when you try Googling the title (Thanks, Shazam!).
So, if you're wondering what the song was during the fight scene of Episode 1, or what that weird song was that played as Ruth walked into the very 1980s party in Episode 3, wonder not. We've got the full list below.
Episode 1
Opening Titles: "The Warrior" Patty Smyth
ScandalVEVO on YouTube
In Ring Scene: "Separate Ways (Worlds Apart)" Journey
journeyVEVO on YouTube
Closing Credits: "Stir It Up" Patti LaBelle
DiscoBar80 on YouTube
Episode 2
Opening: "The Look" Roxette
Roxette on YouTube
Closing Credits: "We Don't Get Along" The Go-Gos
Sorchify on YouTube
Episode 3
Party Song: "4-3-1" The Jetzons
Fervor Vintage on YouTube
Episode 4
Opening: "Life in a Northern Town" The Dream Academy
SlowwHand on YouTube
Training Camp: "Movin' Out" Billy Joel
billyjoelVEVO on YouTube
Episode 5
"Head Over Heels" Tears for Fears
diorgrace on YouTube
"Rock You Like A Hurricane" The Scorpions
mymostfamousmusics on YouTube
Episode 6
Closing Titles: "Ready Steady Go" Generation X
SkyCrueSixxy on YouTube
Episode 7
Fight Scene: "Dare" Stan Bush
starscreamrules123 on YouTube
Closing Titles: "Exodus" Ernest Gold
RoLorenz on YouTube
Episode 8
Test Scene: "Under Pressure" Queen + David Bowie
Queen Official on YouTube
Skating Scene: "Car Wash" Rose Royce
JaneCole111 on YouTube
GLOW is streaming now on Netflix.