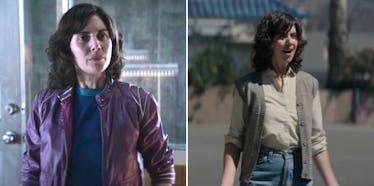 7 Of Alison Brie's Best '80s Outfits On 'GLOW' To Inspire Your Next Themed Party
Netflix
In Netflix's latest original series, GLOW, Alison Brie stars as a fictional actress in the real-life 1980s women's wrestling TV show, Gorgeous Ladies of Wrestling.
Brie plays Ruth Wilder, an aspiring actress who joins GLOW in a desperate attempt to break into the industry. In the show, Brie is funny, empathetic and does a mean Audrey Hepburn impression. She also rocks a bunch of super cute '80s outfits.
Costume designer Beth Morgan clearly did her research for the period. Brie's character doesn't have a lot of money, so you won't see her in the expensive, brightly colored pantsuits or leather skirts you saw on '80s supermodels.
Instead, Ruth's look is a more modest, mainstream one. Think of the pictures maybe you've seen of your mom in old photo albums. A lot of those trends — like shirts tucked into high-waisted pants — are back in style today. Maybe that's why I was so obsessed with all of these outfits Alison Brie wore in GLOW.
(Note: Though she wears many amazing wrestling costumes in the show, I'm sticking with outfits Ruth wears outside of the rink.)
1.
This outfit from the very first episode remains one of my favorites throughout the season. I feel bad Ruth got mugged by the kids, but dang did she look stylish when it happened.
2.
These high-waisted jeans seem to be a staple of Ruth's wardrobe, and I love them every time. In Episode 2 she pairs the pants with a beige shirt and vest, and she looks like every norm-core Pinterest page ever. And you can't forget those shoes that were so fly they were stolen from her.
3.
True, this outfit from Episode 3 is basically the same outfit as the one from Episode 2, but adding a maroon unitard under that vest for a pop of color makes it feel brand new.
4.
This outfit from Episode 4 is a serious contender for my next Halloween costume: a simple turquoise t-shirt tucked into pin-striped pants, and to top it all off, those infamous giant '80s-style glasses.
5.
I'm incredibly into this purple jacket and blue crop top Ruth rocks in Episode 8. Especially the jacket part. If someone knows where I can buy it, please let me know.
6.
Even Ruth's workout outfits are adorable, particularly this white crop-top and drawstring sweats combination from Episode 9.
7.
Look, say what you will about hip packs, but I loved the one Ruth wore in Episode 10. It's and it's practical. And I also love that pastel rainbow shirt she's got going on.
Shout-out to Alison Brie and the costume team at GLOW for inspiring me to scour my local thrift shops to get these '80s looks.