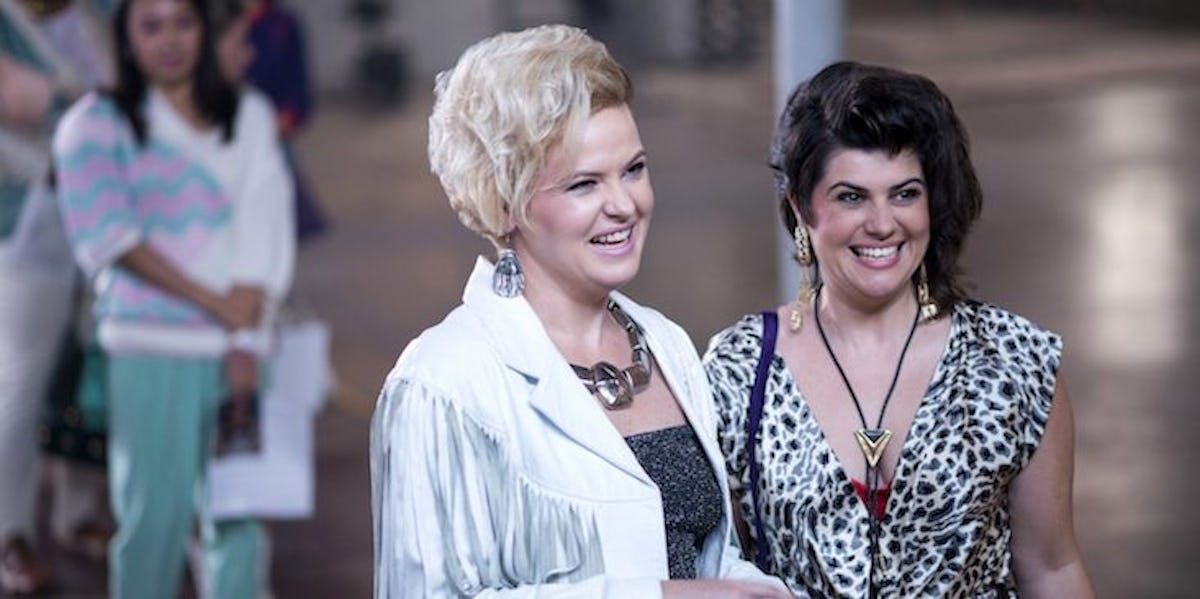 'GLOW' Actors Reveal Tiny Details You Probably Missed, So Start Rewatching – EXCLUSIVE
Erica Parise/Netflix
By now, you've probably seen Netflix's newest original series GLOW, from creators Liz Flahive and Carly Mensch, and executive producer Jenji Kohan.
And if you haven't seen it yet, well, you're cheating yourselves of a fun, nostalgic, well-acted show that also happens to about women and created by women.
One thing that undoubtedly makes GLOW so great is the strong ensemble of diverse women who make up the Gorgeous Ladies Of Wrestling (which was a real all-women wrestling TV show that ran from 1986–1990).
The chemistry between the ladies on the Netflix series is electric — ranging from familiar faces like Alison Brie and Betty Giplin to stand out newcomers like Britney Young (who plays Carmen).
And then there's the comedy duo Rebekka Johnson and Kimmy Gatewood, who are best friends in real life and on the show as Dawn and Stacey. Elite Daily recently had the chance to speak with the hilarious duo.
Dawn and Stacey are sort of like the Weasley twins of GLOW -- if Fred and George had been hairdressers in the '80s. Catch them in Episode 5 making prank calls, in Episode 7 as the ridiculous bad guys in the Ku Klux Klan-inspired fight, and in Episode 10 as the Beat-Down Biddies. (Fun fact: Johnson was sick to her stomach with food poisoning when she filmed that final fight scene.)
Johnson and Gatewood have been working together professionally for a decade — ever since they began performing their musical comedy act, The Apple Sisters, in New York City in 2007. They couldn't be more thrilled to be working together again on GLOW.
"It's one of those auditions you see Jenji Kohan, you see GLOW, and you see that you could also audition with your best friend," Gatewood tells me. "You kind of have to look at it for far too long —"
" — to make sure that it's real and not a prank email or spam," Johnson surmises.
(It should be noted that throughout our chat, both Johnson and Gatewood effortlessly completed each other's thoughts — they seemed to have an almost psychic connection.)
Though they may not be the stars of the show, Johnson and Gatewood had plenty of insight that will definitely interest GLOW fans — namely, that it's time for a rewatch. Because in all likelihood, you totally missed the hilarious antics Dawn and Stacey were getting up to in the background of so many scenes.
"You should always watch the background of every scene when you re-watch again," Gatewood advises. "We were in every scene and there are a lot of times when Rebekka and I were f*cking around in the back."
Which scenes are those, exactly? Well, you'll have to do a full rewatch to catch them all, but Gatewood and Johnson told me their favorites.
"We have a whole candy food fight at the Bash's house," Johnson says, referring a scene in Episode 3 when the ladies go to a Malibu party in the home of their producer Bash (Chris Lowell). If you look closely you can see that this is indeed a candy fight going on behind Ellen Wong, who plays Jenny Cheng.
But their favorite example of background horseplay that made it into the show was in Episode 5, "Debbie Does Something." (And the horseplay in that episode is quite literal, as you'll soon see.)
Johnson explains,
There's a scene where Carmen and Debbie are talking and they're kind of passing a medicine ball back and forth, talking about how Debbie's never seen wrestling. They're kind of having a serious talk. And the director was like, 'Oh just use that pommel horse' to us.
(If you, like me, never did gymnastics as a child and don't know what a pommel horse is, it's basically that thick, Twinkie-looking bar that gymnasts use their arms to spin around on.)
But feats of gymnastics are not what Dawn and Stacey had in mind for this pommel horse.
"Kimmy hopped up on the pommel horse, rode it like a horse, and I came up like a sheriff, tipped my hat, and then I was shooting finger guns – all in the background of that scene," Johnson tells me. "And then they put it in, so I think they like us!"
And indeed, a quick peek at the Netflix tapes verifies this story. An entire scene unfolds, all behind Betty Gilpin's back
First, Dawn and Stacey approach the pommel horse.
Stacey hops on, with Dawn cheering her on.
Things get pretty ridiculous, to be honest.
Then Cherry comes over and presumably reprimands them.
And it ends with Stacey doing sit-ups on the pommel horse instead.
Annnd, scene!
Johnson and Gatewood laugh with delight when they tell me about pulling off this particular bit of background work.
"It's just like so within our characters," explains Gatewood. "So I think we appreciated that we could always be authentic to the character and it wasn't like, 'Don't be distracting in the background,' because Dawn and Stacey would be non-stop distracting."
And there's more than just those two scenes, they tell me — but that's for you to find.
Before I let them both go, I had to ask — keeping in mind Elisabeth Moss' confusing insistence that The Handmaid's Tale is not feminist — do Johnson and Gatewood consider GLOW a feminist show?
"Yeah, it's definitely a feminist show," Gatewood tells me firmly.
"The whole show is a feminist message," Johnson adds.
Both are looking at me with, "Well, duh," expressions so I explain — even though the show's feminist message may seem obvious, there is this new trend of shying away from the "f" word.
"It just is feminist," Johnson responds. "It would be hard for us to not be able to say it, and it would be strange if we were asked not to because there were women from top to bottom. Teams of women all over the place – it was lousy with women!"
"The fact that six out of the nine directors were women, " Gatewood adds, "That's is still a unique thing in Hollywood."
"Yeah, and almost all the writers were female," agrees Johnson.
"And then everyone in the cast was a woman – even Marc [Maron]," laughs Gatewood.
"You can quote us on that," Johnson concludes. And so I did.
By the way, if you can't wait for Season 2 of GLOW — which Johnson and Gatewood swear they know nothing about, they just hope it happens — to get more of this dynamic duo in your life, you can catch the next Apple Sisters live show on July 31 at UCB Sunset.