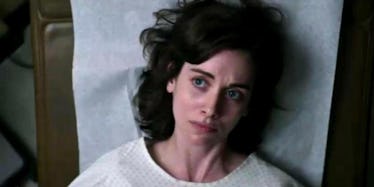 'GLOW' Gets Planned Parenthood's Stamp Of Approval For Its Abortion Episode
Netflix
Netflix's latest original series GLOW does not shy away from the tough issues. The first season deals with racism, sexism, and identity with both empathy and humor. It also depicts an abortion.
Towards the end of the first season, Ruth (Alison Brie) is finally making some headway in her wrestling career, and even starting to repair her friendship with Debbie (Betty Gilpin). But that all comes to a screeching halt when she finds out she's pregnant.
Knowing that the pregnancy came after her affair with Debbie's husband Mark, Ruth makes the decision to get an abortion. Sam (Marc Maron) helps Ruth through the process, and Episode 8 ends in a poignant scene where Ruth stares up at the ceiling during the procedure.
The emotional scene earned the appreciation of Planned Parenthood, which released a statement via Entertainment Weekly applauding the "honest, authentic" portrayal of abortion. The organization also pointed out how relevant the depiction of reproductive health is today.
Planned Parenthood applauds the new Netflix series GLOW, which includes an episode about one woman's decision to have a safe, legal abortion. While the show takes place three decades ago, the story line remains relevant today, as politicians continue to attack women's health and chip away at access to abortion in America.
Caren Spruch, director of arts and entertainment engagement at Planned Parenthood Federation of America, expanded on the statement, further praising GLOW for reducing the stigma and misinformation attached to abortion.
We applaud GLOW for highlighting the need for every woman to have full, accurate information about all of her options so she can make the best decision for herself. With reproductive health under constant attack from politicians, it's more important than ever for the public to see story lines about abortion that are accurate, authentic, and respectful of women's experiences. To reduce the stigma and silencing that many women experience, we must replace misinformation with facts and support honest, authentic portrayals of the women who make this decision.
GLOW isn't the only show to get Planned Parenthood's stamp of approval for an abortion storyline recently. Last year, the organization similarly applauded Jane the Virgin for an honest portrayal of abortion.
Crazy Ex-Girlfriend and You're the Worst also featured characters making levelheaded decisions about abortion at around the same time Jane the Virgin did last year.
Even though GLOW is set in the '80s, it's clearly right in keeping with our modern times.