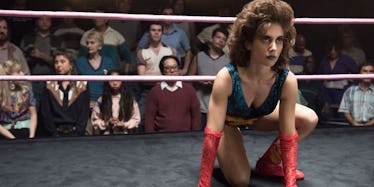 Alison Brie Literally Had To Fight Her Way To Be Cast On 'GLOW'
Netflix
In Netflix's latest hit show GLOW, the first episode features Alison Brie as Ruth Wilder, a struggling actress who cannot get anyone to cast her for anything, not even a role that requires all of two lines.
Speaking to IndieWire about the audition process, Brie revealed life imitated art in this case and, similarly to her character, she fought for the role.
When Ruth tries out for an experimental wrestling show featuring all women, she winds up being cut on the second day, passed over because the woman she's going head to head with is the daughter of a wrestling family.
Nevertheless, she persisted. She keeps coming back until Sam (played by Marc Maron) finally relents. And it turns out that's not so far from the reality Brie faced as she tried to get cast in the production.
The show, she insists, didn't want her to have the part: "I've never felt more like Ruth than when I was auditioning for this show."
Betty Gilpin, who plays Ruth's frenemy Debbie also had a hard time, coming back over and over to audition. Brie says it was hard on both of them.
"I cried in my car after every audition," Brie said. "I would sit in my car like Ruth and sob. And we were both listening to the same Ultimate '80s mix while auditioning, so "Flock of Seagulls" was playing [while we were sobbing].
Both actresses say they never dreamed of getting meaty parts like this. As Gilpin says, she spent her life as a working actor but never allowed herself to imagine being offered a part this large or this prominent. For Brie, it was a role that was everything she could have hoped for.
Speaking on the audition process, she said
It was amazing to get the opportunity to prove myself the way that Ruth also does. But I also had this dream criteria in my head where I was ready to sign off on certain shows that checked like two of the six boxes, and I was like 'Two whole boxes!' And then 'GLOW' came in, and it really did check every box.
Why was the show so hesitant to cast them? Creator Liz Flahive admits she had an idea in her head the characters (especially Ruth) were fresh faces no one had ever seen before. It took a while until she realized these two were what she was really looking for.
GLOW is streaming on Netflix starting this Friday, June 23.