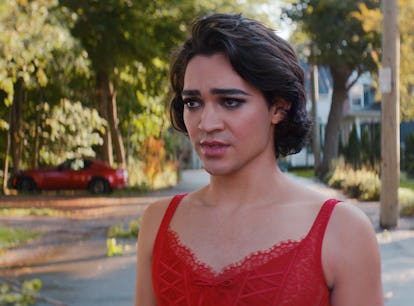 The Ending Of Glamorous Was Actually Incredibly Personal For Miss Benny IRL
"It's not a 'twist' to surprise the audience."
Netflix
The final moment of Glamorous Season 1 wasn't originally in the script. That pivotal ending was added by Miss Benny, who stars in Netflix's fabulously over-the-top dramedy as the rising makeup marvel Marco Meija. It's a scene that's meant to shed a new light on Marco's personal journey, and four days after it aired, Miss Benny revealed that it's a deep connection she shares with the character.
Spoiler alert: This post discusses the Season 1 finale of Glamorous. At the core of Glamorous is Marco's struggle with gender identity. The gender-nonconforming fashionista uses both he/him and she/her pronouns depending on the environment, and loves to rock both tailored suits and glam dresses. However, Marco's femininity isn't embraced by his new hookup Parker, a bro-y gym rat who urges Marco to "tone it down" when out with his friends. Eventually, Marco realizes just how toxic this is, and realizes she needs to begin the process of transitioning.
That's the final shot of the season: Marco triumphantly meeting with a transgender specialist at an LGBTQ+ health center. It's the ending that Miss Benny had added to the show, because shortly after it aired, she publicly came out as trans as well.
Miss Benny shared how Glamorous guided her journey to sharing her trans experience in a June 26 essay for Time Magazine. She knew she was female since she was a child growing up in a conservative Texas home, and began living as a trans woman for a few years before Glamorous premiered. She credits the 2020 series Veneno with inspiring her to begin her transition. "I privately transitioned in my day-to-day life," Benny shared of that time. "It felt as if I had lived with a stuffy nose my whole life and then suddenly my breathing airways opened, and I discovered everybody else has been breathing freely the whole time."
Benny was cast on Glamorous before she began transitioning, and quickly realized a major concern: she had been cast to play a boy. Thankfully, she was able to convince the show's creator, Jordon Nardino, to make Marco trans. "I knew this was different from the original plan, but I felt we could include this journey in the show by having Marco transition alongside my transition in real life," Benny wrote.
The next challenge for Miss Benny to ensure that Marco's identity was authentically portrayed throughout the series. "It was really important that Marco's trans-ness was not the plot of the show. It's not a 'twist' to surprise the audience," Benny explained. "Instead, we get to watch a young queer person experiencing first love and heartbreak, career success and failure, and everything else that comes with being a young adult… while also discovering their identity in the background of life. Because being transgender is not something you do, it's who you are."